My Mum Your Dad on Channel 9 – Finale. The Blessing Ceremony. The kids must decide whether or not to give approval for their parents' relationships to continue back in the real world.
My Mum Your Dad on Channel 9 and 9Now – Monday 20 November, 2023 at 7.30pm
About the Show
In a world wide phenomenon Kate Langbroek returns to guide a new group of single parents on a second chance journey to love when My Mum Your Dad returns on Tuesday, October 31, at 7.30pm on Channel 9 and 9Now.

Prepare yourself for another unforgettable ride of romance as these single parents navigate their way to finding their forever love, however this year the parents know they have been nominated by their kids and have given their children full control over their dating life.

As the parents take up residence in a brand-new luxury Retreat, their adult children settle into the Bunker, where they will have a unique insight and power over their parents' dating life – and they're not going to hold back, regardless of how excruciatingly awkward some moments are.
The kids will have the power to influence all the dates from the comfort of the Bunker. Taking their influence to the next level, they will go undercover on dates to see firsthand who is best suited for their parents – and also have the power to send parents home.
Kate said:


"I was honoured to host this second season of My Mum Your Dad. It is compelling and uplifting. It is a testament to the power of love. I laughed and I cried. Mostly I was struck by the unselfish gift these children are giving their parents, for love is the greatest gift of all."
There will be truth bombs, drama and romance from parents and their children on the journey to the ultimate test, the Blessing Ceremony.

For the relationships that make it there, the children's approval or disapproval is crunch time, and all emotions and thoughts will be revealed at the Blessing Ceremony in the finale.

These brave single parents have put their hearts on the line. Will there be a love story? Will their offspring approve? Or will their second chance at love be left at the Blessing Ceremony?
MY MUM YOUR DAD ON CHANNEL 9 – MUMS
Nadia (47) and Mona (25) – QLD


Personal Trainer/Events Planner and Influencer

Nadia is a fiercely independent Muslim woman. She also struggles at times to find the balance between her upbringing and the pitfalls of modern dating. Mona is an influencer and her mum's "right hand". She describes Nadia as passionate, loving, hard-headed and decisive
Kim (57) and Chelsea (21) – WA


Airline Customer Service Agent and Real Estate Agent

Kim is a confident woman who gets a lot of male attention. She goes for good-looking guys who always have lots of women after them. Chelsea is a real estate agent who is happy to take control of mum's dating life. She thinks her mum loves red flags and falls too easily.
Janine (53) and Tiarn (22) – NSW


Aged Care Nurse and Teaching Student

Janine doesn't find it hard to meet a man – she's been dating online, and up until going on the show was out on three dates a week. Tiarn is a teaching student who does everything with her mum. There's nothing they wouldn't do for each other, and she's not afraid to tell her mum if someone isn't right for her.
Dani (51) and Brandon (28) – VIC


Interior Decorator and Gym Manager

Dani is a strong, confident woman who has no trouble getting attention from males. She tragically lost her third husband in 2019 from cardiac arrest. He was "Mr Right". Brandon is very protective of his mum. He wants her to be happy after seeing how hurt she was by Paul's death, but he believes she has the tendency to mould into the person she is dating and not be her own person.
Michelle (48) and Jesse (26) – WA


Cafe Owner and Winery Worker

Michelle is a beautiful, loud and energetic blonde who always ends up with men that need her help. She's very independent and finds it hard to let go of being in control. Jesse works at a winery and is a confident alpha male. He's extremely protective and sick of seeing his mum ending up with losers. He's happy to have control over Michelle's dating life and wants her to find someone genuine who fits in with the family.
Rebecca (52) and Gracie (20) – QLD


Fashion Retail Employee and Retail Assistant Manager

Rebecca is flirty, quirky, and always makes people laugh. She was adopted and grew up as a proud First Nations woman. Gracie and her mum share a wicked sense of humour. They have a role-reversal relationship where Gracie finds herself being the mum a lot of the time.
Donna (51) and Steph (27) – SA


Physiotherapist Receptionist and Disability Support Worker

Donna is a bright and vivacious woman who thinks there's a man drought in Adelaide. Steph is a disability support worker who wants her mum to finally be happy. Steph thinks Donna's ideal man must be cashed-up, love to travel and have good manners.
MY MUM YOUR DAD ON CHANNEL 9 – DADS


Masi (52) and Harper (18) – QLD


Landscaping Business Owner and Landscaper

Masi is a Gold Coast ladies man. He has no trouble meeting women but can't seem to find someone on his level. Harper has a super-cool vibe. He admires his dad and wants to support him on his journey to find love, but thinks he should maybe change his dating age demographic.
Shannon (51) and Katie (19) – QLD


Real Estate Agent and Bar Manager

Shannon is a successful real estate agent from Noosa who is charming and warm with a fun side. He's a father of three and it's clear that his kids are his number one priority. Katie is highly protective of her father and believes honesty is the best policy. She is super confident and has a big presence.
Wes (49) and Jake (21) – NSW


Foreman and Plant Operator

Wes is your typical Aussie bloke: he surfs, swims, snowboards and rides a dirt bike. He's the type of guy who gets a lot of female attention. He's a straight talker ready to find love. Jake is just like his dad and loves all the adrenaline-pumping activities too. His mates describe Wes as "a cool oldie". He thinks it's time for dad to finally meet someone.
Ben (51) and Jasmine and Jaxon (18) – NSW


International Pilot, Aviation Student and Chef

Ben is an adventurous international pilot who has dreams of sailing the world, however he has found it hard to find a connection due to his job. Jasmine is an aviation student and Jaxon is a chef. Jasmine is also her dad's personal psychologist. They're cutthroat with their dating advice and want him to find someone who is family-orientated, smart, and loves the beach.
Simmo (54) and Sarah ("Chook) (21) NSW


Cafe/Wine Bar Owner and Cafe Manager

Simmo is a relaxed surfer guy and proud father. Daughter Sarah is his best friend – they live, work and go out together. He loves the beach, fine wine and good food. Chook manages her dad's cafe/wine bar and thinks Simmo gets a lot of female attention at work, but doesn't even notice.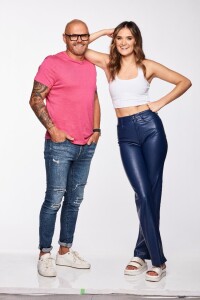 Tom ("Boss") (51) and Chloe (21) – NSW


Businessman and Miss Universe Contestant

Tom owns a mortgage broking business and is hugely successful. He is looking for a partner who complements his life, not someone who wants to leech off him. Chloe was recently the Queensland representative for Miss Universe. But she's not just a pretty face: she has attitude and intelligence and commands a room.
My Mum Your Dad is produced by ITV Studios Australia for the 9Network.
Media Release – Nine
My Mum Your Dad on Channel 9
TV Central Nine content HERE