September on BBC – BBC highlights for the month of September include The Following Events Are Based On A Pack of Lies, Better, Great Canal Journeys, Jon and Lucy's Odd Couples, Darcey Bussell's Royal Road Trip, Life Below Zero, The Lakes with Simon Reeve, Wild Oman: Wonder of Arabia and Supertato.
The Following Events Are Based On A Pack of Lies


Australian Premiere
Fridays at 8.30pm from September 22
Also available on Foxtel On Demand and Binge
Starring: Rebekah Staton, Alistair Petrie & Marianne Jean-Baptiste
5 x 60′
This adrenaline-packed thriller explores the rapid rise of the modern fraudster, and the strength two women find to take on a conman at his own game.
Alice is a formidable, though underestimated PA, who lives in a cramped bungalow with her entire family. Cheryl is a bestselling author, who lives alone in a sprawling mansion, and Dr Robert Chance is a celebrated ecopreneur, who has apparently fallen for her. Or has he? Actually, Rob is a sociopathic conman who cheated Alice out of everything she had, and is about to do the same thing to his new mark. For Alice, this is a chance for justice – but how far will she go to convince Cheryl of the truth?
Better (M)


BBC First Premiere
Tuesdays at 8.30pm from September 19
Also available on Foxtel On Demand and Binge
Starring: Leila Farzad, Andrew Buchan & Samuel Edward-Cook
5 x 60′
Redemption comes at a cost.
A phone call interrupts Lou's evening out at the pub, once again she's got to clear up the mess of Col McHugh – a powerful crime boss. But this time, for the very first time, she's clearing up a murder.
Triggered by finding her son at home seriously ill with meningitis, she wakes up to the fact that, to put it simply, she's bad. She's been a corrupt policewoman working for Col for too long and what started as minor, little favours and cover ups has spiralled out of control.
Better is her redemption story. She fights to atone – refusing Col's orders, correcting historical misdeeds…. before reaching the conclusion that Col himself is the highest expression of her corruption and her redemption won't be complete until she brings him down. Better is the epic battle for the soul of one woman and her family – a messy, human, crime-filled story about Lou's redemption.
Better is a fast-paced and utterly compelling thriller, shot through with wit and humour, that explores the complex and powerful bonds of loyalty and family, set in a world where everyone has their own version of "right" and "wrong". Examining the power of human conscience and the need for redemption, Better examines the ties that bind, the ties that define, and the ties that break.
Great Canal Journeys – Series 7


UKTV Premiere
Tuesdays at 8.30pm from September 5
Also available on Foxtel On Demand and Binge
Presented by: Sheila Hancock & Gyles Brandreth
4 x 60′
Brand new boaters Sheila Handcock and Gyles Brandreth embark on their tour of London's waterways, starting on the upper reaches of the River Thames – a paradise of unspoiled nature, royal retreats and river regattas. Sheila and Gyles also take a trip along the Lee Navigation, tackle their first manual lock and some terrifyingly tight turns, and visit the Royal Gunpowder Mills.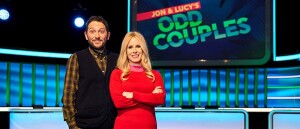 Jon and Lucy's Odd Couples


Australian Premiere
Wednesdays at 9.30pm from September 13
Also available on Foxtel On Demand and Binge
Hosted by: Jon Richardson & Lucy Beaumont
6 x 60′
Comedians Jon Richardson and Lucy Beaumont put their own marriage flaws to one side in order to judge everyone else's, by inviting two unsuspecting celebrity couples to go head-to-head to decide who has the best relationship.
Relationship secrets are spilled as dirty laundry is aired, grievances shared and irritations examined, all while Jon, Lucy and a professional marriage therapist sit on in judgement. The celeb couples must also take on a variety of challenges designed to test key relationship skills.
Contestants include Rachel Riley and Pasha Kovalev, Richard Herring and Catie Wilkins, Sara Pascoe and Steen Raskopoulos, Vicky Pattison and fiancé Ercan Ramadan and Pussycat Doll Kimberly Wyatt and husband Max Rogers.
Darcey Bussell's Royal Road Trip


UKTV Premiere
Thursdays at 8.30pm from September 21
4 x 60′
Dame Darcey Bussell travels Britain to celebrate the landscape and places that meant so much to Her Majesty The Queen as well as the ordinary people whose lives she had touched. The former Principal of the Royal Ballet, Dame Darcey met the Queen herself and has a deep and abiding affection for Her Majesty.
As she criss-crosses Britain, travelling from the Highlands of Scotland to London and from the Norfolk Broads to the Welsh borders, the former ballerina hopes to understand a little more about the longest serving monarch in this very special road trip.
Life Below Zero – Series 10


Australian Premiere
Saturdays at 8.30pm from September 9
Also available on Foxtel On Demand and Binge
19 x 50′
The Emmy-award winning show catches up with the inhabitants living off-grid in one of the toughest areas in the world.
The Alaskans continue to cement their legacies in the unforgiving realm of the Arctic, where temperatures regularly plummet to -80 Fahrenheit, freezing exposed limbs in minutes. Ricko DeWilde watches as his oldest children grow into young adults.
The Hailstones hope their way of life continues as their children become teachers of the next generation of Inupiaq survivalists. Sue Aikens contends with the growing threat of unusual predator behaviours in the tundra.
Jessie Holmes continues to build the home of his dreams and learn new survival techniques to thrive in the Brushkana wild. Meanwhile, Andy Bassich and Denise Becker must adapt to the ever-changing environment along the Yukon River.
The Lakes with Simon Reeve (PG)


BBC Earth Premiere
Tuesdays at 7.30pm from September 12
3 x 50′
From submarine workers to hill farmers, Simon Reeve meets the people of Cumbria, revealing new insights into this stunning corner of Britain.
The Lake District is the biggest national park in England. Made famous by poet William Wordsworth, its rugged beauty holds a unique place in British life. But it's also at the heart of many crucial issues facing the world – from development to sustainability and climate change. Simon Reeve meets the Lake District's most fascinating characters, finds out about the threats to its fragile wildlife and visits some of the spectacular and controversial energy projects located within its borders.
Wild Oman: Wonder of Arabia


Australian Premiere
Mondays at 7.30pm from September 18
Also available on Foxtel On Demand and Binge
2 x 60′
Oman holds one of Arabia's most remarkable treasures: an intricate web of life so rich and diverse that it is home to some of the world's most endangered and rarest wildlife. For the first time on screen, Oman's unique habitats are explored.
Discover a country packed with an incredible diversity of landscapes, crucially important to the survival of some of our planet's most precious creatures. It's the last stronghold of the rarest leopard on Earth, the crucially important nesting ground of turtles and many more animals that make Oman a truly precious wild place.
Supertato – Series 1 (New Episodes) (G)


Australian Premiere
Weekdays at 7.50am from September 11
12 x 7′
Good battles against evil among the aisles of a local supermarket in this slapstick comedy animation series featuring the world's greatest potato superhero.
The supermarket may be closed but everything is far from quiet. Evil Pea has escaped her icy lair in the freezer and is determined to take over the store forever. Based on the bestselling books by Sue Hendra and Paul Linnet, this brand-new action-packed animation series follows the adventures of Supertato as he and his fruit and vegetable pals do everything they can to try and stop Evil Pea.
Each episode brings new challenges and hilarious silliness – from riding an out-of-control toy dinosaur to building a baguette rocket to visiting the stinky cheese moon in the deli aisle. But will our superhero be able to protect his friends and return Evil Pea to the freezer where she belongs?
See more TV Central BBC stories HERE
BBC programming info can be viewed HERE
September on BBC
All our channel content is available on Foxtel and Fetch.
About BBC
BBC First, BBC Earth, UKTV, CBeebies, BBC World News, BBC Kids and BBC Brit are channels owned by BBC Studios featuring our content. Selected channels are available through a Foxtel, Fetch or Binge subscription.