The Block on Channel 9 – It's a sad ol' time Block lovers.
Our renovating days on Charming Street are behind us and our Blockheads are stuffing their bags full of free Arnott's biscuits and Bisley workwear and preparing to bail back to their actual homes.
Bust open a pack of your favourite Shapes bikkies and let's indulge in some nostalgia, shall we?
Fittingly, it's raining as the teams wake up on their last morning. It's eerily quiet, given they have finished building and there are no more rooms to judge.
A lot went down at the final judging.
Steph and Gian played the gnome they bought from Kyle and Leslie, flooring an unsuspecting Leah and Ash.
Regardless of the extra point delivered by the gnome, Leah and Ash managed to secure the win by half a point. That also meant they won the coveted Mustang Mach-E.
It also did nothing to thaw the frosty relationship between them and Kyle and Leslie in House 1.
Leah and Ash are dirty about the secrecy involved in the gnome sale, and they think Kyle and Leslie are huge game players.
"What you see there isn't what you get," Ash says firmly. "Where what you see with us is what you get."
Next door, Leslie is feeling salty too. She says she didn't appreciate a comment Leah made on the night that she must not have had any confidence in herself if she resorted to selling a gnome.
Leslie points out that she and Kyle weren't even able to complete their build without the money the sale provided – and that was a driving factor in the decision.
"I was never going to miss my neighbours," she adds. "Our whole relationship with Ash and Leah for the most part, has been very superficial this whole time."
She adds the couples never really got to know one another and she doubts Leah and Ash will miss them too.
But Kyle weighs in that there's an element of Leah and Ash's bolshy personality that he admires. "They stand up for themselves, and they are opinionated and they don't let themselves be walked over," he confesses.
Emotions are running high, right around The Block. Everyone is feeling proud and reflective as they make their beds, fold their clothing away and flick the light switches off, one last time.
The couples are all grateful for each other, and respect their teammate more than ever. They're all feeling very bonded.
"It tested us and we handled it," Brett says. "Conquered it!"
"I'm gonna miss it all," says Gian.
"I would 100% do it again," says Liberty, joking she would take a short break first. "It truly has changed our lives."
"I have loved this more than I could imagine," Leslie says.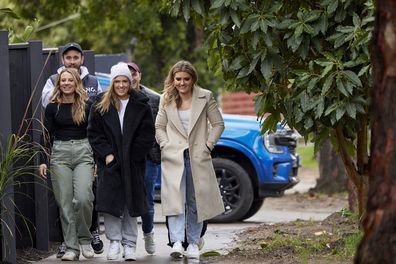 The teams head outside to unite for a final hug… and there's an extremely awkward moment when Houses 1 and 2 exit at the exact same moment.
Ahh, the sweet sound of crickets.
They're soon joined by everyone else and there are hugs all around as final goodbyes are shared and tears are shed.
We're feeling a bit misty ourselves.
But we regather, because for the first time in four years, we have a public Open For Inspections and we are busting to see how everyone reacts to one another when they're finally reunited.
Thanks to the magic of television, it's been a few months since the teams departed Charming Street. They've all had long showers, deep sleeps and fresh haircuts but we manage to recognise them… just.
But let's be honest, it's not about the hair. We are all extremely keen to see who is friends with who… and who is not.
Liberty spills first. "We've had a lot of interaction with Steph and Gian and Leslie and Kyle," she reveals. "We love them.
"Um… the others we…." she falters. "We have not had [as many interactions]."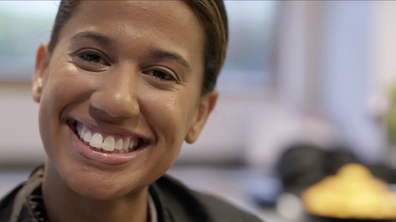 But Liberty sagely adds that in life, you simply don't get along with everyone. "And that's fine!" she adds.
Leah explains that she and Kristy never spoke again after the confrontation they had in the kitchen. But once filming wrapped, reality set in.
"The perspective of life… all of it became petty nonsense," Leah says. "So, swords are down."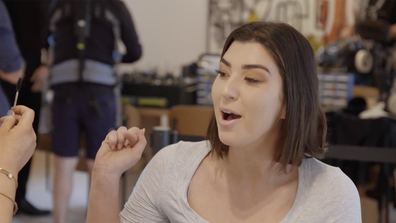 The pair exchange a few cheeky jokes, and it's clear the tension has evaporated from their "toxic" friendship fallout.
So in a nutshell, it appears we are back to the friendship status of Week 1 on The Block, like no time has passed at all.
The harmonious atmosphere is placed under threat when Scott Cam, Shelley Craft and Alice from Domain arrive – because they're about to reveal who has landed the front cover of the Domain magazine.
It's the cover right before the Auctions, and everyone is desperate for it.
Alice reveals the winner is the house with the most listing views.
"This year, the winning house has had nearly 50 percent more listing views than their closest rival," Alice shares.
And the honours go to House 1!
Kyle and Leslie are flabbergasted… and very, very happy.
As they celebrate, Charming Street is flooded with die-hard Block fans, desperate to take a peek inside the much-discussed homes.
The fans adore what they see and are thrilled to meet the Blockheads too.
House 1's curves and colour palette is admired and Leslie says she's delighted to meet the people who have supported them. Kyle adds the experience has opened his eyes up to who he really is as a person.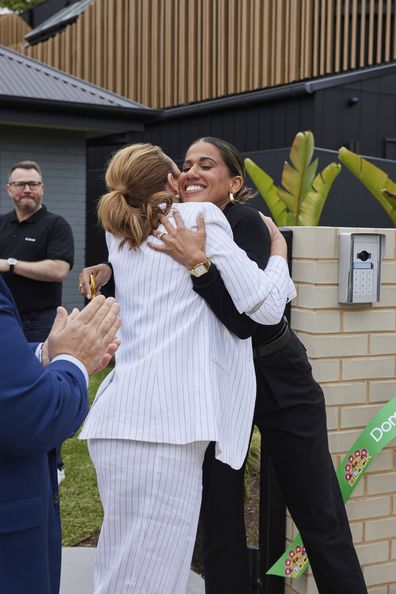 House 2 are taken aback by how excited people are to see them – and they feel validated that children respond so much to their bespoke kids' spaces.
"The Block is beyond hard," Ash says, and Leah agrees. "It's the wildest, most challenging, rewarding, epic thing we've ever done in our lives," she says.
House 3's huge space is called "beautiful" by fans, and they love the colour palette. BBQ King Brett even gets on the tongs, expertly grilling some lamb cutlets.
The pair explain how proud they are of what they have achieved and how much the experience has boosted their relationship. Kristy reflects that she can't believe how much she cried on the show. "And I hug everyone now. It's weird," she laughs.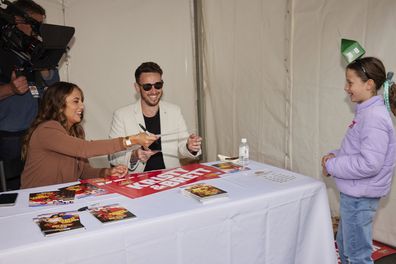 House 4 secured the most wins this season and the fans swoon over their stunning spaces. "Beige is in!" they declare, as the floor plan and design is admired. Gian says it feels like yesterday that their "naïve" selves arrived.
Steph says she hopes they have inspired others to push themselves. "Don't limit your dreams!" she says meaningfully. "Because you can achieve anything and everything if you put your heart to it!"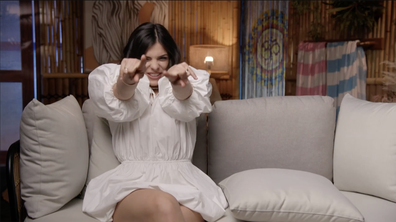 House 5 are greeted by a legion of screaming fans and Eliza admits she could easily get used to it. "I've always wanted to be a rock star," she grins. "This is the closest I'm ever gonna get."
Their controversial moss wall is a popular stop and the girls are delighted that people are lavishing them with compliments. "I don't know if people are just saying nice things to our face," laughs Eliza.
They're also very touched when one fan thanks them for being positive role models for their own daughters. "That means the absolute world to us," says Liberty.
"We feel passionate about doing the right thing and being good role models," she adds, explaining it's the ultimate takeaway for them.
"We can do so much more than I think we thought we could."
As the sun sets, Scotty reveals that 10,000 fans walked through the five houses… and now, there's only one thing left to do – sell them.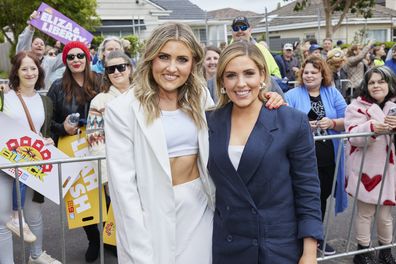 This Sunday sees the five homes go under the hammer, and the nerves are real.
How much will they sell for? And who will get the biggest prize of all… being declared the winner of The Block?
Load up on the bikkies and tune in to find out.
The Block on Nine and 9Now – The Auction Grand Finale will air Sunday November 5 at 7.00pm on Nine and 9Now. Catch up on all the latest episodes on 9Now. 
This recap has been used with permission from Channel 9
Special thanks to Lulu Wilkinson at Nine.
Link to 9Now HERE
Link to Lulu's full recap including with extra video content and info HERE
The Block on Channel 9
About The Block
Get ready, Australia. The Block, the number one renovation reality program, returns for an incredible 19th season on Sunday, August 6, at 7.00pm on Channel 9 and 9Now.

Set in the family-friendly Melbourne suburb of Hampton East, the new series features five houses designed and built in the 1950s and located on the aptly named Charming Street. These grand old dames are now aged in their 70s and way overdue for a contemporary update.

For the first time in Block history, host Scott Cam will be providing contestants with the full renovation schedule ahead of time this season. So get your cameras out, Blockheads, it's photo time.

Adding to the year of Block firsts and amping up the stakes at play during the 48-hour House Decider Challenge, contestants will be seeing all finished designs of the houses on Day 1. Who will prevail and get the house of their choice?

Not only will they get the schedule and designs up front, but in another first, they'll receive their entire budgets as well.
However, the Blockheads will soon find out that it's not all smooth sailing when renovating an original 1950s home – structural issues, extreme weather events, and a mountain of demolition will test our five keen couples every step of the way.


Plus, The Block's state-versus-state rivalry will be amplified by the sheer closeness of the houses this year. Who knew being able to peak into your neighbours builds would cause such tension?

The couples in contention are: sisters Eliza and Liberty Paschke (personal assistant, 37, and integration producer, 34, VIC); parents Kyle and Leslie Cottone (firefighter, 36, and teaching aide, 34, WA); parents Leah and Ash Milton (first aid officer, 31, and builder, 36, QLD); married couple Kristy and Brett Beames (project manager, 34, and safety officer, 34, SA); and newlyweds Steph and Gian Ottavio (architect, 27, and start up worker, 27, NSW).

Real estate expert Marty Fox isn't the only new addition to the lineup this season. The formidable foremen Keith Schleiger and Dan Reilly will be joined on site with the fan favourite from last year, Tom Calleja.

The nation fell in love with Tom and his wife Sarah-Jane because of their work ethic and relatable marital bickering, and he jumped at the chance to work with Scotty and come back as this year's official Block plumber.

The designs of the amazing homes in this series again come from The Block's resident architect, Julian Brenchley.

At stake is $100,000 for the overall winner of The Block, on top of any profit the five couples can all make on the critical auction day. Plus bragging rights for the winners' state.

Since premiering on Channel 9 in 2003, Australia's richest reality program has awarded a total of $32,592,807.65 in prizemoney.
The Block – on Channel 9 and 9Now
Media Release – Nine
TV Central Nine content HERE