The Block on Channel 9 – It's one of the last days on The Block.
But pop your tissues to the side for now, because we're about to see an epic battle of gnomes play out plus the winner of the coveted is Mustang revealed in our final judging for 2023!
Popcorn, ready!
Everyone wants the car. "It's a huge reward for the last 12 weeks," Leah acknowledges.
Steph and Gian are sad to be leaving but also thrilled their days of endless painting will soon be behind them. They're feeling extremely confident about their prospects of winning the car, not just because they have a gnome up their sleeve. They reckon their yard is superb, with a great street frontage and exceptional layout.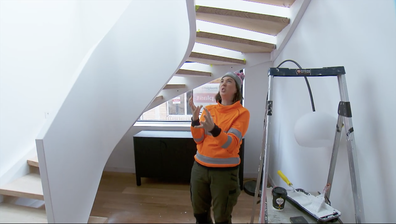 The pair have won a whopping $163,000 throughout the season and they haven't held back when it comes to creating the best space possible.
Everyone on site believes this week will culminate in a showdown between Houses 2 and 4. Both have the biggest budgets to spend and both have bonus point gnomes… even though Leah and Ash aren't aware of that fact.
Yep, everyone else knows that Steph and Gian have a gnome – and Leah and Ash have no idea.
Eliza and Liberty wish that wasn't the case. "It's not up to us to say anything," Liberty says, pointing out she isn't directly involved.
"But if I came out of that, I'd feel humiliated with the fact that everyone knew and it's kind of gone on behind their backs and they've been made a bit of a fool of."
Not winning a car isn't stopping Kyle and Leslie – or their dedicated landscaper Troy – from making a big effort this week. Troy even manages to score them a last-minute cheap water feature, which is clocked by the eagle eye of Leah. She questions how exactly it was sourced last minute, and at such a bargain price.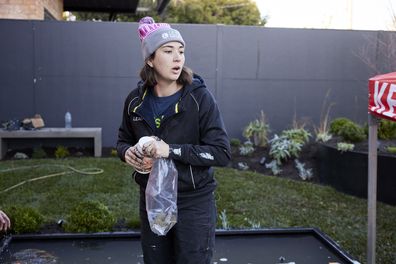 It's observations such as these that are part of the rationale Kyle and Leslie have for selling the gnome to Steph and Gian. Yes, they needed the money. But they also really don't like the idea of Leah and Ash winning a Mustang, after they criticised their budgeting and railroaded the pair to the point of suggesting an audit.
And Leslie believes every house wants to see how it will play out.
Frankly, so does all of Australia.
That doesn't mean everyone else isn't going down swinging. Kristy and Brett have managed to pull off a striking front yard using their team of carpenters, in lieu of a landscaper.
The sisters have added Grafico wallpaper to their walls, to avoid painting and create a beautiful effect. Leah's gone one step further and enlisted Grafico to create a custom print that includes the original floorplans of the house.
But everyone's efforts are thwarted when the skies open and it begins to rain, heavily.
Painting is literally washed away… and reality is swept sharply into focus. "This is the difference between us finishing and not finishing," says Eliza wryly.
"We're now stuffed."
When the final morning dawns, the rain drizzles to a stop. Everyone races outside to paint.
Well, not Kristy and Brett. They race to McCafé instead. "That'll do," says Brett, of his rain-streaked, half-painted fence. Clearly, he's given up all hope of winning that car.
Not so, his neighbours. Both Houses 1 and 2 have pulled out "secret" weapons in a subtle bid to score the new set of wheels.
House 1 proudly reveal their Mustang.
House 2 showcase their Mustang.
"Ours is way cooler," Leah says.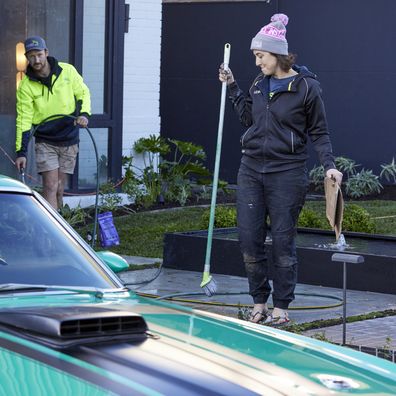 She's forced to press pause on that sentiment, because Scott Cam has turned up which means… it's time.
TOOL'S DOWN!
That's a wrap on officially renovating five brick 1950s Charming Street homes, and we're feeling some feels.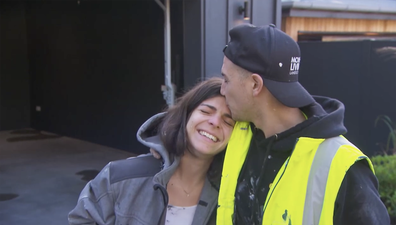 Brett grabs Kristy and spins her around in glee. Leah and Ash embrace, as does Kyle and Leslie. The girls bust out a dance of joy and an exhausted Steph and Gian share a hug, and a tear.
"It's emotional," Steph admits.
Soon Liberty is crying too. "I have no doubt in my mind that on my deathbed I'll be looking back and being like, 'there's been no experience like it'," she says.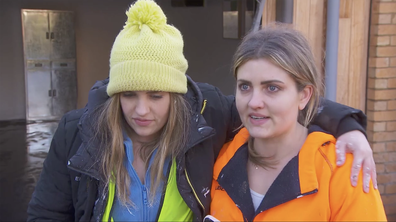 But before that happens, we need to head to HQ. There's a car to be won… so let's find out who's taking home the honours, shall we?
Landscaping guru Dave Franklin has once again joined the judging team tonight, which means the scores will again be out of a total of 40 points.
House 1: Kyle and Leslie


The judges are struck by the calming nature of House 1's front yard, but question the choice of paint colour for the brick work. It's an awkward moment, as Scotty admits he knows it was he and Shelley who suggested it. "Sorry!" he says sheepishly.
Dave admits he can see the pair spent most of their money in their backyard so there are some bland areas, but Darren Palmer appreciates the soft curves that create a lovely juxtaposition with the home's angular façade.
Their very basic garage is acknowledged, before the judges head inside to check out their entry space. The curves are admired for being elegant and welcoming people into the home. It's declared a fantastic way to finish, and Kyle and Leslie are extremely relieved to hear it.
House 2: Leah and Ash


No one wants to win this week more than Leah and Ash. They could have played their gnome and won twice before, but held onto it to give them every advantage to score the Mustang.
Their hard work is quickly recognised. The judges find their front yard extremely impressive and finessed. Their bespoke front fence – a first of its kind in Australia – is applauded for being "incredible, and so unique" along with the planting that runs along the top ridge.
"That was my idea!" declares a relieved Scotty. "Sorry," he says again to Kyle and Leslie.
The homes' façade is admired, as well as the turntable in the driveway, showing off the vintage Mustang the pair have rented.
The colour palette is complimented, and the judges believe the entire effect is one of "understated luxury."
Dave sagely points out the way the pair expertly handled the concrete, breaking up big slabs with greenery and says there has been a considerable amount of thought put into the planting.
Inside the home, the garage wows the judges and the show-stopping staircase takes their breath away.
Marty Fox enthuses that the home is a "turn-key" solution for a buyer – making it very appealing.
"This is the cherry on top of a crazy party cake!" says Marty and Shaynna Blaze applauds them for breaking boundaries.
House 3: Kristy and Brett


House 3's use of space is immediately given props, as is their unique entry. The judges love their unique black façade. "It's just so lovely and linear," says Darren.
They appreciate the chill out space the front deck offers and Dave says he is impressed by how much better their landscaping is compared to last week's backyard.
"A good landscape is a balance of hard and soft and that's what they've given us here," he says happily.
The streaky rain-damaged paintwork is spotted, but the stellar flooring in the garage wins them over.
The quirky floorplan that allows entry to the studio from the garage earns them praise, as Darren observes that multiple generations would be happy in the home and be able to live independently from one another if need be.
The two also delivered a second living space in their entry, which also included a projector. Darren and Shaynna love the idea of the space being a movie zone, but Marty isn't so sure.
The pair also included a cleverly tucked away storage area, which thrills the judges.
Marty believes they have managed to create a home that will appeal to the masses, making them a real threat come Auction Day.
"More buyers equals more bidders… and that's what you want on Auction Day," reads Scotty.
House 4: Steph and Gian


House 4's front yard is instantly deemed a "show-stopper". Shaynna marvels at its width and sense of grandeur and Marty notes how much parking there is.
Darren is taken aback by the curb appeal the home offers and Dave snaps into plant lover mode when spots the many different inclusions and the clever use of mixed medium. He froths over the different species, designed to flourish in all four seasons. "It's so nice to see you nerd out about plants," laughs Darren.
The warm and inviting yard feels expensive. "Probably because it is," laughs Shaynna.
Their garage is filled with storage, but the judges are surprised the pair didn't paint the concrete floor.
Inside the home, the feature beams are quickly clocked by Marty. But Darren wonders why the pair didn't opt for a glass front door, especially as the front door offers complete privacy. Dave backs him up, noting they should have brought the outdoor, indoor. "It's about bringing that inside," he explains.
The judges agree that their home is light and bright throughout, and the entry is the exact opposite.
But overall, they think they have finished on an "amazing, incredible high", building a house full of soul.
House 5: Eliza and Liberty


The timber-clad façade earns the respect of the judges, as does their landscaping. Dave admits the pair have turned things around in their front yard.
He loves their majestic cherry tree and stunning brick fence.
Darren loves the seating area at the front, noting it's a clever way of directing people down the path to the homes' entry. The front door is tucked away, and the judges do agree that it isn't instantly obvious where it is. Everyone agrees more depth would have worked, and a series of columns would have helped guide people too. Liberty explains they simply couldn't afford such a feature.
When they finally get inside, the judges adore the entrance. They enjoy how grand it is and admire the use of glass. The spacious entry also emphasises the vast floorplan the home offers to the buyer. "Space is so key," Marty states.
Darren admires the staircase, adding it is his favourite of the five homes. "Feels so open and glorious," he swoons.
Marty adds the girls have delivered the biggest family home on The Block, which will make it hard to beat. He believes the girls have smartly designed their home for the market, which will be evident come Auction Day next week.
The verdict is…


With such glowing feedback, especially for Houses 2 and 4, everyone is nervous as Scotty starts revealing the scores.
"This is gonna be God-awful," says Liberty, under her breath.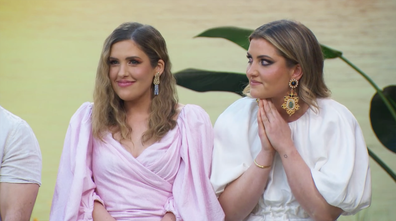 Dave's scores are up first… and he gives both Houses 2 and 4 a 9.5.
We're sweating.
Darren is next. He gives both Houses 2 and 4 a 9.5.
THIS IS HAPPENING!
Time for Marty. He throws down a 9.5 for Leah and Ash and A NINE FOR STEPH AND GIAN!
Australia screams! The entire season, Marty has been on the Steph and Gian train and tonight's the night he chooses to hop off. We cannot cope.
"Wow. Marty letting us down," breathes Steph.
Our nerves already shot, it's time for the enormous explosion we've all been waiting for.
Leah and Ash play their gnome.
"What about the other one?" Scott asks.
"Yeah, we'll use it," Gian pipes up.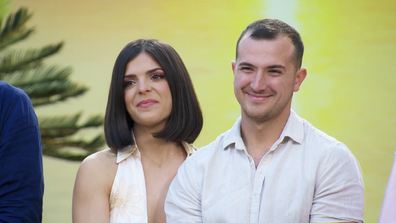 He throws a quick look at Ash, who gives nothing away as he calmly says, "How'd that happen? Bought it?"
He quickly asks how much the pair paid for it.
"Five," says Gian.
Leah and Ash are FLABBERGASTED.
"Are youse insane?" Ash asks Kyle and Leslie.
Leah notes they must have had zero confidence in themselves, but Kyle shoots back, "Needed cash."
"It's about all getting over the line at the end of the day," adds Leslie.
"Cheeky little chickens you guys," says Ash… and we can only imagine the mental arithmetic going on right now.
Leah rapidly realises the secret gnome swap was something everyone was aware of and she's not thrilled. "For what gain?" she says. "Give us a heads up!"
"Steph and Gian have played the game… hard."
But any hurt feelings will need to be popped to one side, because Shaynna's scores are about to drop and a Mustang is about to be given away… and also, we may need to get our blood pressure checked.
"This is fun telly!" marvels Brett.
Scott spins the board…
…And by half a point, Leah and Ash win the Mustang.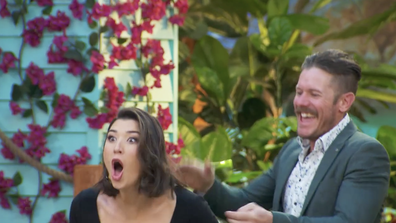 They COULD NOT BE more chuffed.
"We did it!!" cheers Leah. "We just won a car!
"I can't wait to do the school run in my Mach-E!"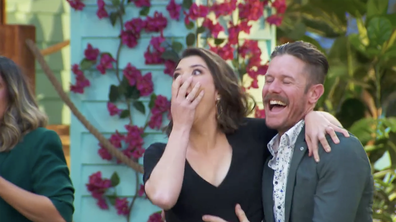 The final scores are:
House 1: Kyle and Leslie – 32.5
House 2: Leah and Ash – 39 (including 1 bonus point from their gnome)
House 3: Kristy and Brett – 35
House 4: Steph and Gian – 38.5 (including 1 bonus point from their gnome)
House 5: Eliza and Liberty – 34.5
As Leah and Ash celebrate in their new car, the rest of the Blockheads snap a group selfie… minus House 2.
"It's been a bumpy road with these guys," Leah admits, happily remaining in her new vehicle. "Tried to play it fairly… and this feels good.
'Cause I'm just like… see ya, wouldn't want to be ya!"
As they drive home, Gian admits he feels sorry for the "isolated" couple.
"They just won $80,000 [worth of car]," Steph chides him.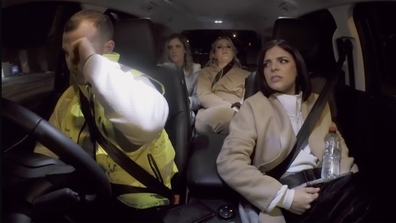 Kristy ponders whether Leah and Ash winning the car might be a consolation prize, in case they don't do well at auction.
"Who's gonna buy that f–king house?" she notes. "I don't think that house is going to sell at auction."
But Scott Cam disagrees.
"I believe these are the best houses I've ever seen on The Block," says Scotty. "Let's sell these houses and get you guys the rewards you so richly deserve."
BRING. IT. ON.
The Block on Nine and 9Now – airs Sunday 7.00pm and continues Monday at 7.30pm. The Auction Grand Finale will air Sunday November 5 at 7.00pm on Nine and 9Now. 
This recap has been used with permission from Channel 9
Special thanks to Lulu Wilkinson at Nine.
Link to 9Now HERE
Link to Lulu's full recap including with extra video content and info HERE
The Block on Channel 9
About The Block
Get ready, Australia. The Block, the number one renovation reality program, returns for an incredible 19th season on Sunday, August 6, at 7.00pm on Channel 9 and 9Now.

Set in the family-friendly Melbourne suburb of Hampton East, the new series features five houses designed and built in the 1950s and located on the aptly named Charming Street. These grand old dames are now aged in their 70s and way overdue for a contemporary update.

For the first time in Block history, host Scott Cam will be providing contestants with the full renovation schedule ahead of time this season. So get your cameras out, Blockheads, it's photo time.

Adding to the year of Block firsts and amping up the stakes at play during the 48-hour House Decider Challenge, contestants will be seeing all finished designs of the houses on Day 1. Who will prevail and get the house of their choice?

Not only will they get the schedule and designs up front, but in another first, they'll receive their entire budgets as well.
However, the Blockheads will soon find out that it's not all smooth sailing when renovating an original 1950s home – structural issues, extreme weather events, and a mountain of demolition will test our five keen couples every step of the way.


Plus, The Block's state-versus-state rivalry will be amplified by the sheer closeness of the houses this year. Who knew being able to peak into your neighbours builds would cause such tension?

The couples in contention are: sisters Eliza and Liberty Paschke (personal assistant, 37, and integration producer, 34, VIC); parents Kyle and Leslie Cottone (firefighter, 36, and teaching aide, 34, WA); parents Leah and Ash Milton (first aid officer, 31, and builder, 36, QLD); married couple Kristy and Brett Beames (project manager, 34, and safety officer, 34, SA); and newlyweds Steph and Gian Ottavio (architect, 27, and start up worker, 27, NSW).

Real estate expert Marty Fox isn't the only new addition to the lineup this season. The formidable foremen Keith Schleiger and Dan Reilly will be joined on site with the fan favourite from last year, Tom Calleja.

The nation fell in love with Tom and his wife Sarah-Jane because of their work ethic and relatable marital bickering, and he jumped at the chance to work with Scotty and come back as this year's official Block plumber.

The designs of the amazing homes in this series again come from The Block's resident architect, Julian Brenchley.

At stake is $100,000 for the overall winner of The Block, on top of any profit the five couples can all make on the critical auction day. Plus bragging rights for the winners' state.

Since premiering on Channel 9 in 2003, Australia's richest reality program has awarded a total of $32,592,807.65 in prizemoney.
The Block – on Channel 9 and 9Now
Media Release – Nine
TV Central Nine content HERE