The Block on Channel 9 – When we last saw our Blockheads, everything was imploding.
The sisters and Kristy went head to head following the revelation of a secret Gnome. Eliza and Liberty had just won Kitchen Week, beating Kristy and Brett by one and a half points (if you count the bonus point)… which means technically, all that fury over the Gnome was actually not even warranted.
But Kristy is insistent that the girls are getting special treatment and the girls are over it. Leah has just witnessed the whole thing play out in a dramatic and intense fashion and is feeling guilty by association. It's a vibe she is not liking whatsoever.
And here is a pretty good place to pick up where we left off.
"I don't like mean people, I don't like disrespectful people, I don't like unkind people," Eliza explains.
Kristy's view? "We're just calling it as we see it."
She is adamant the girls are getting preferential assistance but Eliza says everything Kristy is claiming is completely unfounded.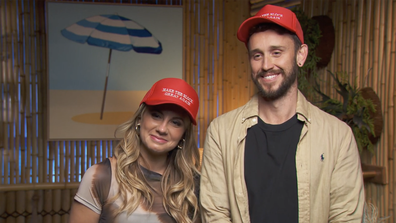 Leah, who is watching the clash, is stunned to see Eliza in such an assertive manner. "It threw me," she admits. She realises Eliza is very upset about the confrontation and that's got Leah thinking.
"I don't know why that got like that," she says, rattled, as she travels home from judging with Kristy and Brett and her husband Ash. "I've never seen Eliza like that."
Kristy is firm. "'Cause that's the real Eliza," she snaps. "And we've only just seen it."
Leah mumbles to Kristy that perhaps she shouldn't be talking about conspiracies and Kristy is gobsmacked. "What do you f–king mean?" she explodes.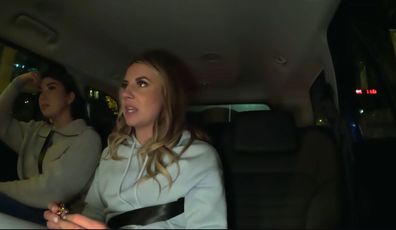 She adds that the girls are playing a very strategic game. But inside, Leah is feeling "sick" about the whole thing.
And confused.
"We're not a part of those conspiracies," she notes. "But we hear about how [Kristy and Brett] come to those opinions. And how they talk about them."
Meanwhile, all the other Blockheads have gathered at Steph and Gian's house for an impromptu celebration of the girls' win and a Maccas feast… and we're jealous.
Everyone is impressed Eliza and Liberty won "fair and square" even without using the gnome, and Leslie remains tickled about the moment it all went down. The other teams are also impressed with the way the girls handled themselves during the heated showdown.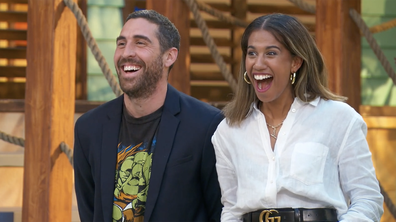 "There's just a real air of bitterness and bad sports–ness going on and it's unfortunately penetrating our joy," Eliza admits to her producer. "It boiled over for me and I think [Kristy and Brett] were quite shocked to have someone stand up to them and take them on at a level that they take other people on."
That isn't quite how Kristy is viewing it. Houses 2 and 3 are also sharing a rehash of the situation over some shared Maccas. Kristy reminds everyone Eliza's "character" just had a whole new angle.
"I can't be f–ked with that fake personality," she says.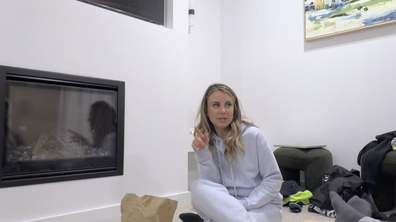 Brett weighs in that he too believes Eliza unintentionally "unlocked" a new character, querying which version was real and which isn't.
"For me personally…" Kristy says. "I'm like, we've got nothin' to lose. Let's just f–king burn it down."
We really hope she isn't talking about the house. 
But Eliza is not the only person Kristy is accusing of completely changing.
We get a special sneak peek into the week to come… as Kristy accuses Leah of trying to hide her actual self.
We learn just how rattled Leah remains about the blow up, as she questions the strong alliance she's been in for the past seven weeks.
"It's like a surface level friendship that was light-hearted and fun," she explains. "It's turned toxic."
"Your wife is dead to me," Leah is seen saying, seemingly towards both Brett and Kristy… and we are GASPING.
Let's take a big collective breath and build some houses, shall we? It's Master Ensuite week and everyone finally puts down their cheeseburgers and picks up their plans.
The girls kick off the week with their new builders and we can only imagine how awkward that would have been, given they just won the room reveal with their old builders.
The new team immediately start kicking goals, winning foreman Keith's respect with their work quality.
But everyone takes a pause on that very short amount of renovating to learn about this week's challenge. It's a doozy.
Domain are hosting an Open House for 100 potential buyers and there's an enormous prize up for grabs for the winner. Yep, $50,000!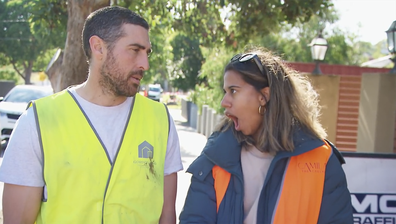 The teams are tasked with crating a killer listing and then presenting an Open House for what is called the "Domain Listings and Buyer's Jury" challenge.
The Blockheads eyes basically turn into dollar signs. And the maths is very simple. $50,000 is much greater than $10,000, which is what you get for winning a room.
"If you got three 10s, a room win and a [$50k] challenge [win], that's a $90k week," marvels Kyle.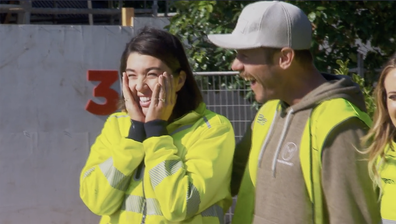 Eliza and Liberty also sagely note that if anyone else nabs the win, they'll be extremely dangerous and exceptionally cashed up.
Apologies to our poor master ensuites but you're about to get sidelined again.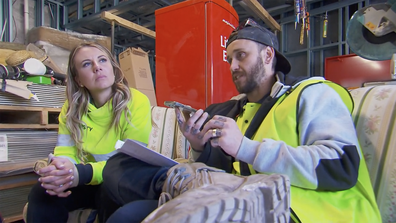 Everyone gets on the blower to their real estate agents and start frantically cleaning their houses.
The sisters also rope in last year's contestant Tom, who is a hipages ambassador and on site plumber this year, for some advice.
He's floored to hear there's $50,000 up for grabs. "We got the 'povo pack'," he jokes. "We got ten grand."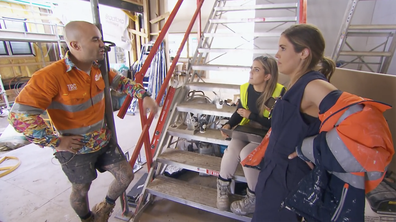 Over in House 4, Steph is taking the challenge so seriously she's suggesting they start demolishing walls to open up the space even more and even add a temporary deck. Gian is not onboard with this grand plan.
"She's not going well," Gian says afterwards. "There's too many creative juices going on."
Gian warns everyone they should be terrified, as hurricane Steph starts ripping through her home, her plans getting more dramatic by the second.
"It's got to be curated!" Steph yelps.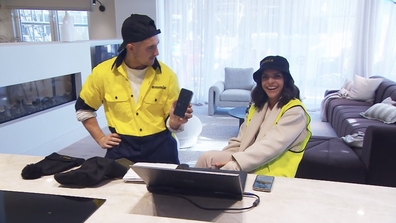 House 2's plans are just as grand. Leah is pondering if she can contact Elton John to perform… or at the very least, a lookalike.
Ash reminds her she also needs to go to get supplies for this week's room. Ah yes, that ensuite.
House 5 is not working on their ensuite either but that's because they've popped off to a luxe winner's getaway at the Mornington Peninsula. There's Champagne, cheese and biscuits, massages and pizza for breakfast and what there isn't is grout, tiling, toilet selection and conspiracy theories.
Until host Scott Cam arrives. He asks the girls about what's been going on, noting the tension following judging and the conspiracy theories that they get special treatment.
"Nothing could be further from the truth," Scott observes. Eliza agrees and adds Houses 2 and 3 are "creating little narratives that aren't happening."
They are, however, delighted to be presented with an extra $10,000 for the perfect 10 judge Shaynna Blaze gave them. "We're back on track," Eliza breathes.
And it's also time to get back to The Block, where a smidgen of work is being done on bathroom renovations and a whole lot of prep is happening for the Domain challenge instead.
What they're actually preparing for is starting to sink in for the contestants. "It's real!" Leah thrills. "We're selling our house." She's even more delighted when her stunning curved staircase is installed. "That is a selling point," she beams.
Leah may be excited but Brett is getting increasingly frustrated as he tries to clean while his team tries to build. People are using his expensive bench top as a workstation and it's enough to make Brett spiral.
"No one gives a f–k around here!" he explodes. "This place just gets f–king trashed!" (Goodness, the censor is earning double time this episode.)
Brett admits later he probably looked "like an idiot" as he threw insulation around. (His words.)
The girls are also overwhelmed with the amount of work they need to do to prepare their home. They consider burning everything they own, but instead opt for a more practical solution. They hire an actual portable storage unit to conceal all their messy belongings. We are both impressed and amused.
The girls amazed at their ability to transform the "squalor" they were living in into a stunning home. "We've fumigated the place," they assure any future buyers who may be watching.
Others are also starting to think about the audience watching. Namely, Leah in House 2.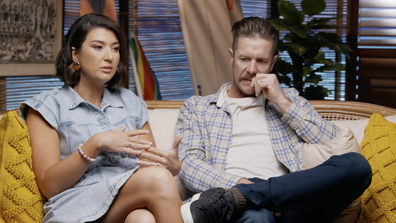 She's realising that all the "jokes and banter" she has been sharing with Block bestie Kristy may not be as light–hearted as she would like them to be.
Leah confesses she had told Kristy she was concerned Houses 2 and 3 were becoming a tight 'foursome', mostly due to the strong views Kristy and Brett hold.
"Ash and I… we don't really believe those things," she notes to her producer.
"I just don't really want to engage in any of that kind of conversation," Leah shares.
She adds that her shift in feelings began when she saw the girls' reaction to the clash at judging.
"It's made me really self-reflect," she admits, adding she realised, "Something is wrong here."
But while Leah may be questioning her friendship with Kristy, Kristy is also pondering why Leah is changing her tune.
Kristy reveals she and Leah had a conversation outside Block HQ, following the dramatic scenes inside. During the chat, Kristy realised Leah wasn't standing up for the opinions Kristy believed she held.
Kristy was visibly frustrated as she was seen telling Leah and Ash, "I'm done with this. Nobody has anything to say in f–king there, why have [something to say] out here."
Kristy notes it made her internally question her friendship with House 2. "Oh OK, you guys weren't the people that I thought you were," she explains of her thinking.
Leah concedes to the camera that saying something "once or twice it is funny", but any more than that and it becomes "petty." Somehow, she feels she has been sucked down a "vortex."
"I don't want to do that anymore," she says.
"I then can't just sit back and be silent. It just doesn't sit well with me and it goes against my values."
But Kristy isn't letting Leah off that easily. "In the last two weeks she has been called a 'mean girl'," Kristy says wryly. "And I think she is just processing that."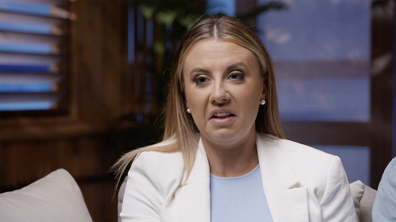 As the night wraps up, Leah bumps into Eliza and stresses that she doesn't share the same sentiment as Kristy when it comes to the whole 'special treatment' claims.
Afterwards, Eliza reflects privately on her opinion that Leah was genuinely swept up in her own little bubble with House 3. "I think she's freaking out a bit," she observes.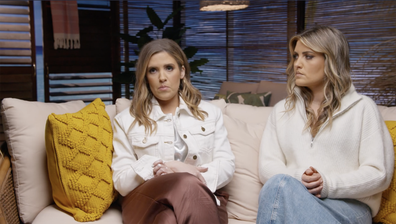 "I think her eyes have been opened."
And watching all that, our own eyes are EXTREMELY WIDE.
The Block on Nine and 9Now airs Sunday at 7.00pm and Monday to Wednesday at 7.30pm. Catch up on all the latest episodes on 9Now.
This recap has been used with permission from Channel 9
Special thanks to Lulu Wilkinson at Nine.
Link to 9Now HERE
Link to Lulu's full recap including with extra video content and info HERE
The Block on Channel 9
About The Block
Get ready, Australia. The Block, the number one renovation reality program, returns for an incredible 19th season on Sunday, August 6, at 7.00pm on Channel 9 and 9Now.

Set in the family-friendly Melbourne suburb of Hampton East, the new series features five houses designed and built in the 1950s and located on the aptly named Charming Street. These grand old dames are now aged in their 70s and way overdue for a contemporary update.

For the first time in Block history, host Scott Cam will be providing contestants with the full renovation schedule ahead of time this season. So get your cameras out, Blockheads, it's photo time.

Adding to the year of Block firsts and amping up the stakes at play during the 48-hour House Decider Challenge, contestants will be seeing all finished designs of the houses on Day 1. Who will prevail and get the house of their choice?

Not only will they get the schedule and designs up front, but in another first, they'll receive their entire budgets as well.
However, the Blockheads will soon find out that it's not all smooth sailing when renovating an original 1950s home – structural issues, extreme weather events, and a mountain of demolition will test our five keen couples every step of the way.


Plus, The Block's state-versus-state rivalry will be amplified by the sheer closeness of the houses this year. Who knew being able to peak into your neighbours builds would cause such tension?

The couples in contention are: sisters Eliza and Liberty Paschke (personal assistant, 37, and integration producer, 34, VIC); parents Kyle and Leslie Cottone (firefighter, 36, and teaching aide, 34, WA); parents Leah and Ash Milton (first aid officer, 31, and builder, 36, QLD); married couple Kristy and Brett Beames (project manager, 34, and safety officer, 34, SA); and newlyweds Steph and Gian Ottavio (architect, 27, and start up worker, 27, NSW).

Real estate expert Marty Fox isn't the only new addition to the lineup this season. The formidable foremen Keith Schleiger and Dan Reilly will be joined on site with the fan favourite from last year, Tom Calleja.

The nation fell in love with Tom and his wife Sarah-Jane because of their work ethic and relatable marital bickering, and he jumped at the chance to work with Scotty and come back as this year's official Block plumber.

The designs of the amazing homes in this series again come from The Block's resident architect, Julian Brenchley.

At stake is $100,000 for the overall winner of The Block, on top of any profit the five couples can all make on the critical auction day. Plus bragging rights for the winners' state.

Since premiering on Channel 9 in 2003, Australia's richest reality program has awarded a total of $32,592,807.65 in prizemoney.
The Block – on Channel 9 and 9Now
Media Release – Nine
TV Central Nine content HERE