The Block on Channel 9 – It's judgement time on what has been a truly hectic week… and Neale is back to deliver the first 10 of the series!
That's all you need to know as we power towards the delivery of our Blockheads' living and dining rooms.
Things have become so dire for Eliza and Liberty that Eliza has slept in the shower. Her studio bathroom is the only clean and contained space she can find.
At least they had opted for under–floor heating.
Their living and dining areas are more than double that of some of the other houses, so the girls decide now is the ideal time to give spray painting a whirl.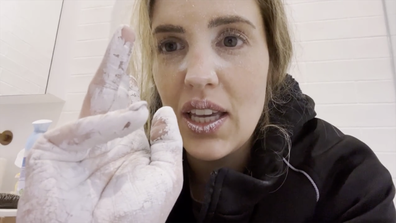 They quickly realise everything in the vicinity is being blasted, not just the walls. "Including my own head… and hair…. and face," confirms Liberty. "My care factor was very, very low."
"It's like a Disney snowland," Eliza says, reviewing their handiwork in the cold light of day.
The usually peppy Kyle and Leslie are also feeling dejected. Their living and dining area is small. So small that their fancy custom Christian Cole dining table isn't fitting in well and it's way too late to do anything about it.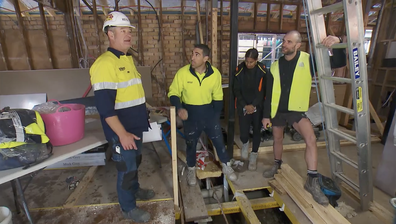 It's literally hours from room delivery and the pair are now strategising ideas about how to increase the size of their room. Way back at the start of the week, foreman Dan had pointed out they could tweak the engineering plans to open the space up, but reality didn't really set in until the table arrived.
"Hopefully it's not too late," says foreman Keith. But with just 24 hours out from room reveal, he says that's unlikely.
Unlike their neighbours, Leah and Ash are in good spirits. They're charging ahead with their "psycho deco" inspired zones. "It will divide opinions and that's completely fine," Leah affirms.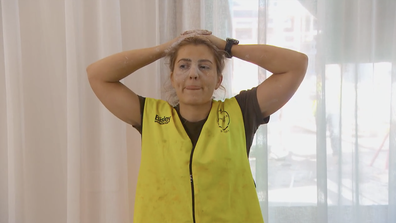 The polished pink Venetian wall and artwork (which some believe resembles a dart board) are matched by bold step tiles and dramatic furniture… and Leah says all she needs is one of two buyers to fall in love with her statement home.
"I'm obsessed with how it's all come together," Leah thrills.
She may be thinking about the end game but right now, Liberty is not. She's "cooked". With no sleep under her belt and paint still clinging to her, she is squarely focused on her coffee and the exact minute she's in.
No rest at all and driving around for frantic last minute necessities isn't a great combo. Lucky for Liberty, foreman Dan's great mate 'Daniello' is on hand to act as chauffeur.
The pair run into Leah while they're out shopping. Leah is not thrilled Liberty has her own private driver. "Hmm, wouldn't that be nice," Leah says sarcastically.
Her best friend Kristy is equally as unimpressed to hear Dan (sorry, Daniello) had been driving Liberty around. "Of course he did," she says wryly. "Absolute bulls–t."
The pair ponder whether the Italian driver will make a return when they too haven't slept. "Not for you. House 5 though!" Kristy notes.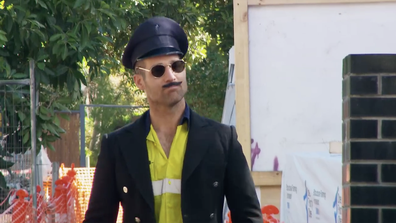 "They literally get gifted anything, every week," Kristy vents later to a camera. "They get given money every single day of the week."
Both Kristy and Brett are unimpressed about what they see as the sisters getting an unfair advantage.
Kristy even believes the two "get everything handed to them on a silver platter".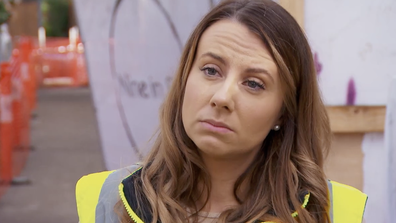 She jokes that the pair get $500 simply for waking up, dubbing the rookies "privileged."
"I don't give a f–k if I don't talk to any of these girls again," she rages.
Rising to her cause, Kristy snaps to a producer that maybe she needs to "sign up to Channel 9" and get "a handout" herself.
"They're 9 privilege down there," agrees Brett. "They're [an] industry plant."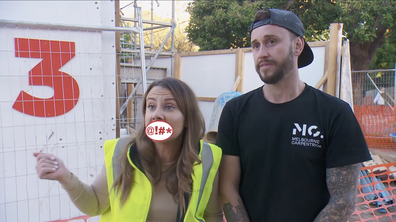 Their producer is incredulous. "You are so far off the mark," he tells the angry pair. "There's no conspiracy at play, despite what you guys think."
"If we're feeling this way, we're feeling this way," Brett says, rejecting his claim.
"What would we get out of it?" a producer asks, as Brett admits he hasn't yet worked that part of his conspiracy theory out. "I'll get there."
Leah realises she's accidentally lit a flame that's turned into an inferno. She takes pains to reassure a producer her opinion isn't quite as strong as Kristy's.
While Daniello is off merrily driving about, foreman Keith is delivering an update to a hopeful Kyle and Leslie. It's going to cost $43,000 (and then some) to make the changes they've asked about… so, it's a hard no.
"Did you need that wall?" Keith ponders, pointing out the same option Dan did, days earlier. "I think the horse has bolted," Kyle's builder says. Leslie attempts to shrug it off. "We just laugh our problems away in House 1," she says.
You know who isn't laughing? Liberty. There are two hours to go and they are still painting. Their furniture is in boxes. They haven't started styling. They're coated in paint. They're also unaware of any conspiracy theories, because they're in the depths of hell.
The pair are devastated as time finally runs out. "We just shoved [furniture] in," Liberty says sadly. "So disappointing that we fell short."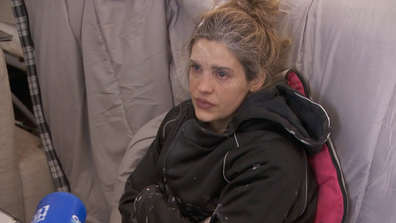 It's time to hear what the judges make of their efforts.
Style guru Neale Whitaker is back for judging and there's no better time for him to return than living and dining week, given his penchant for lamps.
Let's hope the Blockheads have popped a few in their spaces…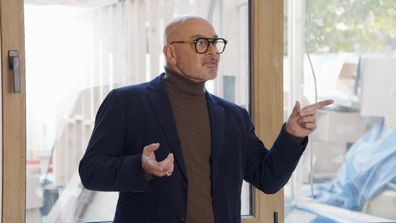 Kyle and Leslie


Kyle and Leslie are up first, and we're not off to a great start. "This just feels really tiny," Shaynna Blaze says upon entering and hearing that, Kyle and Leslie hang their heads, resigned to what is to follow. There is no more laughter from House 1.
Darren finds some 'masterful' elements in the space but notes it's clear the room is as 'constricted' as Neale points out.
"You can take walls out," host Scott Cam tells the devastated team. They don't need to hear it.
But there's worst feedback to come.
"This could actually lose them the auction," Shaynna says, and Darren suggests the pair find some solutions.
"It's a beautifully styled and build disaster," finishes Neale. "It's the Titanic for them if they don't get this right," Shaynna notes.
Kyle and Leslie are shattered and ponder how exactly they afford to re–engineer their home.
Leah and Ash


"I'm so glad I came back today," says Neale happily, as he enters Leah and Ash's space.
"This is so hot," breathes Darren as Shaynna labels it "phenomenal."
All of Leah's styling risks have paid off, as the judges swoon about the space. "But let's be honest, it's polarising," Neale notes. "People with money gravitate to this style," argues Shaynna.
Neale is absolutely thrilled about their multiple lamps and they all adore the steps.
"These guys are next level," Shaynna says.
Kristy and Brett


The two only delivered their living space this week as they changed the configuration of their home, which left them much less stressed than the other couples.
The judges admired the large fireplace, slightly questioning if it was in the right spot.
The layout and couch choices were applauded, as was Kristy's styling colour palette. She's delighted, as she plans to continue it throughout the rest of their home.
Steph and Gian


The pair took a big risk, flipping the dining and kitchen spaces to add their own personalised touch. The pressure saw the two of them bicker all week long and they eagerly awaited the judge feedback.
As Darren sagely noted, flipping – or not flipping – the floor plan was the theme of the week, and Steph and Gian's effort raised eyebrows. Darren and Neale were still undecided about whether the change was the right move… and decided to reserve their final judgement until the kitchen was revealed.
"It will all make sense when kitchen week happens," Steph says assuredly.
It was Steph's styling that cops the harshest feedback, with the judges noting she had chosen too many items and had mismatched heights when it came to seating.
"There's too much of everything," Neale observes. Shaynna agrees that it's missing an emotional connection.
They did however, appreciate the aesthetic of the living area – despite loathing the dried bamboo. Seated down there, they could also see the power of the elevated dining space.
Eliza and Liberty


Despite almost literally throwing their styling pieces into their finished rooms, the judges are extremely impressed with the sisters.
The art is praised as "magnificent" and Neale believes it's a "perfect, elegant, contemporary dining space."
The proportions of their large rooms adds a "sense of grandeur" the judges appreciate, and the girls look stunned to hear it.
"I'm actually blown away," Shaynna says, as Darren agrees it's one of the most "sophisticated" areas the girls have done.
"The styling is minimal, but I think it's enough," Neale praises… and the girls barely resist the urge to explain it's minimal because they ran out of time to do any.
The winner is…


When it comes time to revealing the scores, the girls are flabbergasted to see they're neck and neck with Leah and Ash.
But the bold choices in House 2 are enough to get them over the line and secure the win.
The scores are:
House 1: Kyle and Leslie – 20 points
House 2: Leah and Ash – 29 points
House 3: Kristy and Brett – 25.5 points
House 4: Steph and Gian – 25.5 points
House 5: Eliza and Liberty – 27 points
Leah and Ash are delighted to emerge victorious and even more chuffed to score the first 10 of the season, thanks to Neale.
It's yet another cash injection for the hard–working duo. They won the room reveal last week, picked up $10,000 for being voted Best on Block, got $5000 for a blacksmithing challenge – meaning they've clocked up $35,000 in a week.
And a target that resembles their artwork squarely on their backs, no doubt.
The teams will now tackle master bedrooms and walk–in robes… and will officially hit the half–way point. But after some hard–hitting feedback and extreme exhaustion, it might all just prove to be too much for some of our Blockheads…
The Block airs Sunday at 7.00pm and Monday to Wednesday at 7.30pm on Nine and 9Now. Catch up on all the latest episodes on 9Now.
This recap has been used with permission from Channel 9
Special thanks to Lulu Wilkinson at Nine.
Link to 9Now HERE
Link to Lulu's full recap including with extra video content and info HERE
About The Block
Get ready, Australia. The Block, the number one renovation reality program, returns for an incredible 19th season on Sunday, August 6, at 7.00pm on Channel 9 and 9Now.

Set in the family-friendly Melbourne suburb of Hampton East, the new series features five houses designed and built in the 1950s and located on the aptly named Charming Street. These grand old dames are now aged in their 70s and way overdue for a contemporary update.

For the first time in Block history, host Scott Cam will be providing contestants with the full renovation schedule ahead of time this season. So get your cameras out, Blockheads, it's photo time.

Adding to the year of Block firsts and amping up the stakes at play during the 48-hour House Decider Challenge, contestants will be seeing all finished designs of the houses on Day 1. Who will prevail and get the house of their choice?

Not only will they get the schedule and designs up front, but in another first, they'll receive their entire budgets as well.
However, the Blockheads will soon find out that it's not all smooth sailing when renovating an original 1950s home – structural issues, extreme weather events, and a mountain of demolition will test our five keen couples every step of the way.


Plus, The Block's state-versus-state rivalry will be amplified by the sheer closeness of the houses this year. Who knew being able to peak into your neighbours builds would cause such tension?

The couples in contention are: sisters Eliza and Liberty Paschke (personal assistant, 37, and integration producer, 34, VIC); parents Kyle and Leslie Cottone (firefighter, 36, and teaching aide, 34, WA); parents Leah and Ash Milton (first aid officer, 31, and builder, 36, QLD); married couple Kristy and Brett Beames (project manager, 34, and safety officer, 34, SA); and newlyweds Steph and Gian Ottavio (architect, 27, and start up worker, 27, NSW).

Real estate expert Marty Fox isn't the only new addition to the lineup this season. The formidable foremen Keith Schleiger and Dan Reilly will be joined on site with the fan favourite from last year, Tom Calleja.

The nation fell in love with Tom and his wife Sarah-Jane because of their work ethic and relatable marital bickering, and he jumped at the chance to work with Scotty and come back as this year's official Block plumber.

The designs of the amazing homes in this series again come from The Block's resident architect, Julian Brenchley.

At stake is $100,000 for the overall winner of The Block, on top of any profit the five couples can all make on the critical auction day. Plus bragging rights for the winners' state.

Since premiering on Channel 9 in 2003, Australia's richest reality program has awarded a total of $32,592,807.65 in prizemoney.
The Block – on Channel 9 and 9Now
Media Release – Nine
TV Central Nine content HERE