The Block on Channel 9 – It's the final week of work inside the houses… and strap yourselves in because that's just as hectic as it sounds.
Before they tackle the front and backyards, the teams have to deliver their final bathroom and redo rooms this week. And there's nothing quite like working in the rooms you stuffed up most to really lift morale.
Kyle and Leslie haven't won in nine long weeks and have come last three times. Leslie is struggling to understand the judges' comments.
Leslie points out she's working to the floor plan, budgets and constraints she has been given. She and Kyle are frustrated and demoralised.
Steph and Gian are the exact opposite. They scored three 10s for their kids' bedrooms and nabbed a tidy $40,000 of prize money. Along with the surprise $10,000 all teams got from CommBank to makeover their redo rooms, the pair also recently won $50,000 in the Domain Listings and Buyers Jury challenge.
Basically, Steph and Gian have an extra $100,000 in their budget at this late stage of the competition and that's a damn good place to be.
However, "It's a lot to swallow," Leah admits.
Naturally, everyone is eager to check out what a flawless room looks like. The Open for Inspections begin and there's no question – everyone is awestruck by Steph and Gian's rooms.
"They smashed it," Brett says. He admits he wanted to fault the space but simply can't.
Leah however, says she can't imagine an actual kid being excited about the space. (That's despite Marty Fox's own children openly loving both of them, and the rooms getting a tick of approval from the boss's kids Max and Charlie. But, sure.)
"Do I believe that our rooms are better? Yes," she says firmly. "Happy for [Steph], very bitter.
While Kyle admires the rooms, he is still stinging about Steph and Gian's now enormous cash disparity. "They're not worth $40k more than anyone else," he explains, adding the dynamic has shifted monumentally. "It just becomes a one-horse race."
Everyone likes Leah and Ash's "cool" rooms and Kristy and Brett's jungle-themed space. But it's House 3's second room that baffles as the Blockheads ponder exactly how it fits the brief for a child's bedroom.
"Did not have one single kid's thing in there," Eliza says, stunned.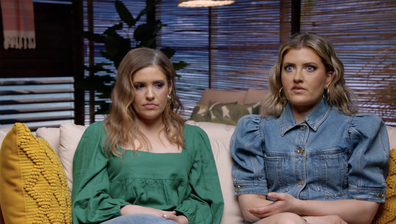 "My Mum says if you can't say anything nice you shouldn't say anything at all," says Leah, a little grin playing on her lips.
Kyle and Leslie were slammed by the judges, particularly because they themed their two childrens' bedrooms. After checking out everyone else's work, they're even more rattled by the feedback, nothing that each house had themed their rooms.
"They actually got, like, crucified," says Liberty. She, like everyone, simply can't see where the judges are coming from.
The rest of the teams agree. "That is such rough judging," vents Leah, adding the judges were close-minded. "I'm so angry for them," says Eliza.
"I'm surprised that they keep going every week," Leah admits.
Kyle and Leslie aren't exactly finding it easy to do so. But they're nothing if not positive. And this week, they'll have a chance to tackle two of the areas that copped the most savage feedback, their living and dining spaces with a primary focus on the living space.
Kyle and Leslie are doing all they can to turn it around. They've knocked out a problematic wall and enlisted the help of Deb, Freedom's expert interior designer, to give her advice on how to maximise the limited space they have.
Next door in House 2, Leah and Ash are making over their work from home space deciding to transform it into a fourth bedroom.
House 3 are tackling their first studio bathroom. "We are looking to make quite a few changes," says Kristy. However she and Brett are hopeful of a smooth process, given they're also working on a bathroom as well this week.
"This one should be business as usual, considering we win bathrooms," Kristy notes.
Let's recap. One winning room they tied with Eliza and Liberty and the other they lost the win officially, when Leah and Ash used a gnome to beat them by half a point.
Brett has labelled himself the 'Bathroom King' regardless. Possibly because he's also a tiler by trade and knows he can kick in and lend a hand if needed, assisting their budget and saving the pair time.
Of course. 
In House 4, Steph and Gian are using their extra coin to makeover their main ensuite, which was cruelly dubbed a "quarantine facility". They're also working on the bathroom that connects their two perfect kids' bedrooms. They've got grand plans and cash to burn.
That's not the case in House 5, but Eliza and Liberty admit the growth they've experienced this season will mean their studio makeover will see a dramatic transformation.
They're also applying that newfound expertise in their final bathroom. Working out the layout for the space and deciding where the toilet should be, Eliza asks the vital questions. "You won't feel claustrophobic when you're sitting doing a poo, will you?"
Future owners will be relieved to know the answer is no.
As work gets underway, former contestants Rachel and Ryan visit The Block and they're here to deliver a new wall product for bathrooms that comes pre-waterproofed. They describe the product to Steph and Gian, and Rachel whips out a sample from her Louis Vuitton handbag. What an absolute vibe.
They whisk Steph and Gian away for a winner's retreat, and naturally Scott Cam, who loves a good winner's feast, joins them for dinner.
While the "financial fat cats" are away, the "mice" come out to play. Pranks are a longstanding Block tradition, and some of the teams decide it's the perfect time to play Robin Hood on Steph and Gian.
Houses 5 and 3 giggle as they 'rob' their now-wealthy neighbours. "Let's steal from the rich and give to the poor," laughs Brett. (For clarity, they are the poor in this scenario.)
Who would have thought a few weeks ago this merry band of villains would be a merry band of anything?
But they all happily josh around as they nab some selected items from Steph and Gian. It starts with luxury items and ends with sauces from the pantry. "They had a lot of good biscuits," notes Kristy.
Speaking of biscuits… Scott Cam is tucking into his prawns and telling Rachel and Ryan that Steph and Gian have been labelled as "arrowroots" this season.
"I love a milk arrowroot," says Rachel.
"Yeah, but it's not a Tim Tam," notes Scott.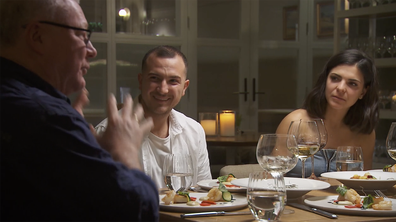 Rachel and Ryan are horrified to hear Steph and Gian have copped some criticism from fellow Blockheads over their time on The Block. They offer them reassurance and words of advice.
"It was harsh," agrees Scott. "It was a tough experience for the first four weeks for these guys."
And in a devastating turn of events, things are about to get even tougher.
Steph gets a call from home to let her know her grandfather has had a fall and is in a very bad way. She's absolutely devastated.
House 3 and 5 quickly realise their prank has landed at a terrible time. They swiftly put back the stolen items and instead, wrap Steph and Gian up in hugs.
"Everyone's here to help," says Kristy kindly.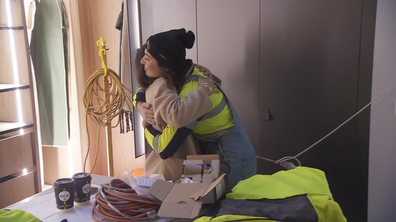 Differences are completely put aside as the Blockheads rally around the shattered couple. There's certainly a mood shift in the air, as Steph takes a quiet moment to think about her family and the teams move ahead with their rooms.
Well, most of the teams. In House 3, Brett has admitted he has enjoyed winning cash from both Weber cooking challenges and so, instead of working on his rooms, he's cooking up a feast on his barbie.
"I'm not sure whether you're aware, we are on a renovating show," muses foreman Keith.
Keith's all for a deliciously grilled gourmet kebab stick, but flatly states Brett should really be inside, insulating. The Nine in Six builders are literally waiting for him to do so.
Brett concedes, "I seem to be a better cook."
Brett adds that he still isn't quite sure of what the show is all about… and in Week 10 of the competition, we are gobsmacked.
"I'm still figuring out what you do on The Block," Brett says.
"I dunno, I'm not really here to build a house," he declares.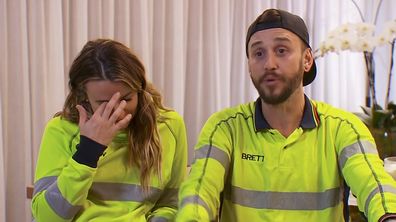 What is he here for? "Bit of fun!" exclaims Brett. "Bit of morale. I want to have some experiences and have a bit of fun. I want to cook and drink… I want to rob people!" he laughs, referencing his earlier prank.
Even Kristy is left speechless by Brett's admission. 
The Nine in Six builder calmly states he'll move the plastering team to another house if Brett can't rally and get the insulation sorted.
"God, it's hard getting him working, isn't it?" observes Keith.
One team who is working hard is House 5. They've turned their minds towards the upcoming landscaping week and their ever-shrinking budget. That budget is getting so small that their landscapers have actually decided to withdraw from the project.
The girls manage to lock in a young team who is willing to work within their budget and who just so happens to have an attractive voice also.
Wins all around.
Oh my dramatic god it's been a big episode… and instinctively, the Blockheads are all drawn to one another as the day draws to a close.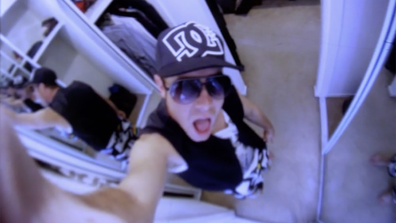 Well, almost all. Kristy and Brett don't join the group. (Miraculously, it's not because they're barbecuing.)
It's because of their ongoing feud with House 2. Steph reflects they just don't have a working relationship with Leah and Ash.
"It just sort of feels that there is a disconnect between [Houses] 2 and 3, completely, and we can't all hang out as one anymore," Steph explains.
And as we learn from the preview for tomorrow night's episode, that doesn't look like being healed anytime soon. The tea is well and truly spilled as journalists turn up to get the goss… and every single wound is laid bare.
Oh my dramatic god.
The Block on Nine and 9Now – airs Sunday 7.00pm and continues Monday to Wednesday at 7.30pm on Nine and 9Now. Catch up on all the latest episodes on 9Now.
This recap has been used with permission from Channel 9
Special thanks to Lulu Wilkinson at Nine.
Link to 9Now HERE
Link to Lulu's full recap including with extra video content and info HERE
The Block on Channel 9
About The Block
Get ready, Australia. The Block, the number one renovation reality program, returns for an incredible 19th season on Sunday, August 6, at 7.00pm on Channel 9 and 9Now.

Set in the family-friendly Melbourne suburb of Hampton East, the new series features five houses designed and built in the 1950s and located on the aptly named Charming Street. These grand old dames are now aged in their 70s and way overdue for a contemporary update.

For the first time in Block history, host Scott Cam will be providing contestants with the full renovation schedule ahead of time this season. So get your cameras out, Blockheads, it's photo time.

Adding to the year of Block firsts and amping up the stakes at play during the 48-hour House Decider Challenge, contestants will be seeing all finished designs of the houses on Day 1. Who will prevail and get the house of their choice?

Not only will they get the schedule and designs up front, but in another first, they'll receive their entire budgets as well.
However, the Blockheads will soon find out that it's not all smooth sailing when renovating an original 1950s home – structural issues, extreme weather events, and a mountain of demolition will test our five keen couples every step of the way.


Plus, The Block's state-versus-state rivalry will be amplified by the sheer closeness of the houses this year. Who knew being able to peak into your neighbours builds would cause such tension?

The couples in contention are: sisters Eliza and Liberty Paschke (personal assistant, 37, and integration producer, 34, VIC); parents Kyle and Leslie Cottone (firefighter, 36, and teaching aide, 34, WA); parents Leah and Ash Milton (first aid officer, 31, and builder, 36, QLD); married couple Kristy and Brett Beames (project manager, 34, and safety officer, 34, SA); and newlyweds Steph and Gian Ottavio (architect, 27, and start up worker, 27, NSW).

Real estate expert Marty Fox isn't the only new addition to the lineup this season. The formidable foremen Keith Schleiger and Dan Reilly will be joined on site with the fan favourite from last year, Tom Calleja.

The nation fell in love with Tom and his wife Sarah-Jane because of their work ethic and relatable marital bickering, and he jumped at the chance to work with Scotty and come back as this year's official Block plumber.

The designs of the amazing homes in this series again come from The Block's resident architect, Julian Brenchley.

At stake is $100,000 for the overall winner of The Block, on top of any profit the five couples can all make on the critical auction day. Plus bragging rights for the winners' state.

Since premiering on Channel 9 in 2003, Australia's richest reality program has awarded a total of $32,592,807.65 in prizemoney.
The Block – on Channel 9 and 9Now
Media Release – Nine
TV Central Nine content HERE