The butt dial was certainly the talk of the town this week. 
And while the scandal has left at least two relationships in shambles, it's had surprising results for other couples. 
The experts prepare to get into the nitty gritty of all of it at what's set to be an explosive Commitment Ceremony…
Claire and Jesse
Mel Schilling doesn't recognise the two cheery individuals sitting on the couch, but upon closer inspection she realises it's Claire and Jesse.
"Who are you two and what've you done with Jesse and Claire?" she asks.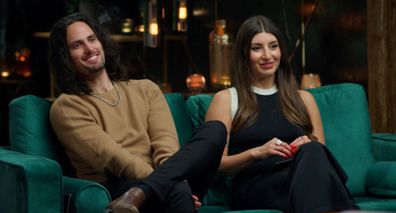 Jesse is chuffed with Claire's efforts to make it up to him after she came clean about her kiss with Adam.
"At the beginning of the week my walls were still up, but I don't know… as the week progressed they just came down," Jesse says.
"I felt prioritised, considered and I felt wanted."
And while that's fantastic news, there is still one question on everyone's minds – can Jesse forgive Claire? And he says he can. "Forgiveness is a choice," Jesse says. 
There's more than just a feeling of friendship between Claire and Jesse. Claire confirms there's "romantic feelings" there and there's even been a little bit of kissing.
On that note, Claire and Jesse both write 'stay' in the hopes of "talking and touching a little bit more."
Sandy and Dan
It's no secret it's been a tough week for Sandy and Dan with the butt dial scandal and Dan disappearing for six hours at a time to go for a beach run.
Dan wants to start their time on the couch on a good note and apologises to Sandy for showing the other grooms photos of his exes.
"It hurts my heart to know that you've got a heavy heart as well," Dan says to Sandy. No one's buying the apology, especially not Evelyn who rolls her eyes so hard they almost fall out of her head.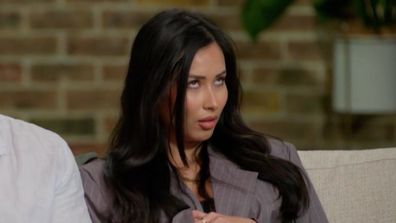 But Sandy says it wasn't just the butt dial, there were other problems in their relationship.
"You said we'd take sex off the table because it makes me too emotional," Sandy reminds Dan.
That comment really grinds expert Alessandra Rampolla's gears – especially when she recalls that Dan said he "wasn't sexually attracted to Sandy" at the last Commitment Ceremony. 
After Alessandra finds out that the pair were intimate the day after he said that, she wants to know how he "magically became sexually attracted to Sandy overnight?"
Dan scrambles through his brain trying to find an excuse and after a fair amount of stuttering he decides to die on this hill – his and Sandy's "lifestyle differences".
"One of the big things for me is my love of the beach and the ocean," Dan says for the millionth time. And just about no one can keep a straight face as Dan explains that the ocean is his home.
John Aiken has also had enough of beach boy Dan and reminds him that "a key ingredient to a healthy relationship is not the love of an ocean." It's news that shocks Dan to his core.  
Sandy is sick of Dan focusing on their differences instead of what they have in common, and when it comes to decision time Sandy says this: "As much as I care for Dan, I care for me more, I need to stand up for myself and respect myself so I have to leave."
Because Sandy is not a real life mermaid, Dan also writes 'leave'.
"The ocean is calling me and I have to go home," Dan unknowingly quotes Moana.
Evelyn and Rupert
The couple found themselves at the centre of the butt dial scandal and Evelyn says it actually "brought them closer".
"The whole situation was pretty tense for Rupert and I, but I am so glad that Rupert had my back," Evelyn says.
Their weekly relationship report reveals that there's been plenty of "flirting", "banter", "giggles" and "making jokes".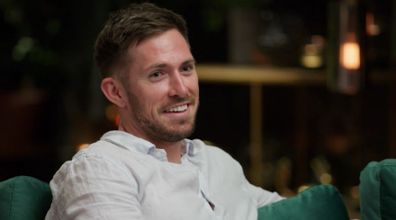 The pair are both feeling "hopeful" about what's next for their relationship and decide to stay.
Bronte and Harrison
After Harrison's bizarre emotional breakdown at the last Commitment Ceremony, Bronte is touched that Harrison cares so much about her struggle with endometriosis.
Bronte is grateful for Harrison's support and says "it's very different to her past partners" who've even gone as far as to say that Bronte would be "a bad mum".
But Harrison thinks Bronte "will make an amazing mum one day" and that pushed him to take the next step in their relationship – introducing Bronte to his son.
"I've never done that before," Harrison says, as he reveals this is the first time he's introduced a woman to his son. 
Bronte beams that after the Friends and Family Week, her sister Kirra can finally forget about their wedding drama and see how happy Bronte really is.
Alessandra – and everyone else – is finding it all a little hard to believe. "It is a huge 180 from only a couple of weeks ago," she says.
But the pair insist that their feelings are real.
"I'm definitely falling for Bronte, there were parts of me that I felt were broken and I feel like time with Bronte is putting those parts back together," Harrison says as if he's reading from a cue card.
The pair both write 'stay' with matching love hearts.
Melinda and Layton
A tired Melinda says it's been another week full of ups and downs.
"I think we're at that stage where we're trying to ascertain whether the issues we have in our relationship is as a result of the experiment," Layton gives the experts his best salesman pitch.
John interrupts Layton and asks him to stop "talking like he's in a boardroom".
"It's very difficult to get a read on your relationship," he says.
But while John is giving his advice he can hear Harrison whispering in the background and quickly turns to the groom to find out "what the story is".
Harrison tells Layton: "The guy I met at the bucks party was full of life, mate you just don't seem happy.
"Every week we see the same story from you guys and I just don't buy it."
Melinda does her best to ignore Harrison's input and admits that they're both "know-it-alls" and at times "it can be a little toxic". Even though they butt heads Melinda wants the relationship to work but "just can't figure it out".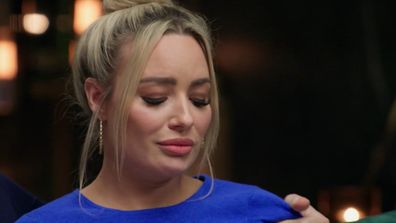 But both of them agree their relationship is worth working on and vow to stop trying to one-up each other.
Melinda does have a message for meddling Harrison: "You're not going to come between Layton and I, stay away from our relationship."
Tahnee and Ollie
Unproblematic lovebirds Tahnee and Ollie take the couch to make everyone feel worse about their relationship.
Friends and Family week "reassured" Tahnee that her feelings for Ollie are real and the groom reveals that he's "in the process of falling in love".
Alessandra is 99.99 percent sure she knows what their decisions are but asks to see them anyway.
Lyndall and Cameron
The troubled pair air out their Friends and Family Week from hell. And when Cam tells the experts how he delivered the news that his mum called Lyndall insecure, he admits he "just told her how it was".
The experts encourage Cam to approach things a little more subtly than his usual sledgehammer approach and he agrees "there are probably different ways to skin a cat". 
When Lyndall is asked for her take on the issue, she says she "was hurt".
"I asked for pretty much less than the bare minimum and I have to sit here and justify that I'm not insecure," she cries.
But despite the tears Lyndall says she also having a lot of fun and decides to stay, as does Cam who knows "there's a lot more to learn".
Alyssa and Duncan
"It was a great week but we also had some hard discussions as well," Duncan tells the experts.
The couple have started thinking about their future outside the experiment and Alyssa has her doubts considering she's a single mum.
"Why would somebody want to date someone that's a single mum when he can easily date someone else that doesn't have all this baggage?' she sobs.
She admits that Duncan hasn't done anything to make her think that, it's "just her own insecurities".
Duncan assures her that he is "extremely committed to this relationship and more importantly to seeing what it's going to look like on the outside."
Alyssa vows to stop "self sabotaging" and they both take a step toward their future together by writing 'stay'.
Tayla and Hugo
After the butt dial scandal revealed that Hugo was guilty of calling his wife Tayla names – and that's putting it lightly – he apologises again for his actions.
"I conducted myself poorly, I absolutely admit that," Hugo says.
"You can vent to friends but calling people names and really going in for character assassinations is totally unacceptable and disrespectful," John reminds Hugo. 
But John also wants to take a step back and look at the broader pattern between Tayla and Hugo.
After a bit of inward digging, Hugo admits he "likes Tayla but feels really insecure around her".
Hugo recalls complimenting Tayla and giving her a kiss on the cheek and says he was shut down.
"I've told you don't make advances like that," Tayla barks.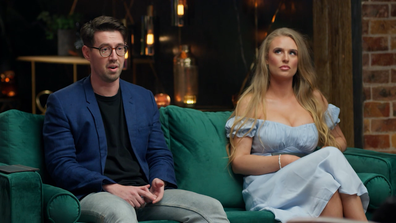 But John catches Tayla out in a bit of a bluff when he asks if anyone else greeted her with a kiss on the cheek. One by one the brides and grooms raise their hands and say the did in fact greet Tayla with a peck.
It becomes very clear that it's only an issue for Tayla if the affection is coming from Hugo.
Even after the experts put it to Tayla like this, she doesn't understand why Hugo thinks she doesn't like him.
"Why am I getting the bad wrap right now?" Tayla huffs.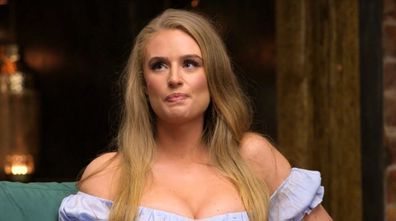 When the experts ask Tayla how she thinks she's responsible for the relationship issues she answers with silence.
But Tayla doesn't care about the relationship issues because she doesn't want to be a part of it anymore and decides to leave.
Unfortunately for Tayla, Hugo still has "hopes of patching things up" and reveals a card that reads 'stay'.
And to say Tayla isn't impressed would be an understatement.
"Why would you do that Hugo? I'm not staying, I'm going back to Tassie," she snaps.
But as John invites them back to join the group on the couch, Tayla dramatically walks out the door.
Claire and Alyssa run after her but it seems Tayla doesn't want their support.
"No, seriously f— this. I'm going home."
Married At First Sight continues Monday to Wednesday at 7.30pm and Sunday at 7.00pm on Channel 9 and 9Now.