The first official week of the experiment has given our Married At First Sight brides and grooms a lot to process.
From "falling in like" to suspicions of cheating, the couples are all in very different stages of their relationships. 
And it's time to air it all out – I mean get the experts' advice – at the first Commitment Ceremony.
Let's see how all the couples fared in the experts' hot seat.
Claire and Jesse
After a "highly lukewarm" arrival, Jesse spills his guts about the blow up that ensued after Claire and Adam allegedly got too close on a night out.
As he explains his recollection of events, Adam chimes in: "So you thought you'd come into my room and start accusing me."
"You're paranoid mate, you've got your own issues that you need to work on," Adam adds. 
Between Adam, Janelle, Claire and Cameron the pieces of the puzzle start to come together and Jesse realises that perhaps he's wrong about the pair secretly being on the phone to each other.
But just as we think the dust has settled, Lyndall comes in with a piece of information that she was "hoping to take to the grave".
"If I said nothing I will feel guilty about this forever," she admits to cameras.
This is when Lyndall drops her little bombshell.
"I don't think Jesse is entirely wrong in what he assumed," Lyndall begins.
"I may have misheard it and it might've been a joke but I did hear – when I picked up my things to go – Adam turned to me and said, 'Don't go, you know that if you go, I'm gonna go home with Claire."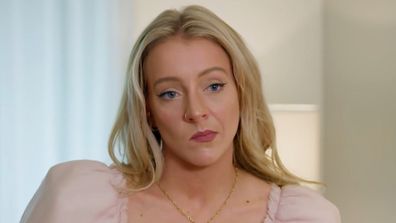 Jaws around the room drop, Jesse triumphantly claps his hands together and Adam goes into straight denial mode.
Adam assures the group that Lyndall's claims are "ridiculous" and Claire reiterates that "no one did anything out of line".
The jury is hung on Adam and Claire's trial, but the decision being made today isn't about them, it's about Claire and Jesse.
Jesse admits that the experiment "has brought out the worst in him" and with a heavy heart – and bawling eyes for that matter – he writes 'leave'.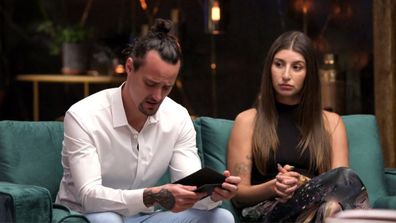 But being the optimist she is, Claire writes 'stay' which means the pair have another week to hash out their differences.
Janelle and Adam
Before the experts even open their mouths, Adam offers an apology to Janelle, Jesse and the whole group for what they've had to put up with.
It seems to be enough for Janelle who says "logically speaking she has no reason not to trust Adam".
As for how the couple feel about each other, Janelle says "she does genuinely like Adam" and Adam returns the compliment by saying "there's a lot to like about Janelle".
Bonus point for the couple, they managed to bone on their honeymoon which is music to Alessandra's ears.
No surprises here they both choose to stay.
Tahnee and Ollie
Looking like high school sweethearts, Tahnee and Ollie say their relationship feels like "a first date that never ended". 
ahnee's only concern is that sex might be "even a little too good", to which Alessandra responds as we all do: "Is there even such a thing".
These two continue to live in their ever perfect love bubble.
Melinda and Layton
Despite not having an initial connection at their wedding, Layton is proud to report that "each day is getting better".
"Instantly, I just didn't have that attraction there, so I had little doubts and I was looking at everything wrong with him," Melinda admits. 
But she says that somewhere along the line "something switched" and the couple have even been intimate.
"The attraction just came, and it came a lot," Melinda overshares.
The group – and myself for that matter – collectively spit out their drinks as they learn Layton has a full tank.
Alyssa and Duncan
Yet another loved up couple take a seat on the couch to make us all feel miserably single.
The pair squirm like a couple of giddy school kids when Duncan admits that he "likes likes Alyssa" and she does the same confessing she's "falling in like with Duncan."
As a mere formality the experts ask to see their decisions and in a shock no one sees coming they both write 'stay'. 
Sandy and Dan
Even though Sandy had reservations about the experiment due to a lack of support from her parents, she's hopeful that they'll eventually come around to the idea.
She says there's even more chances of that happening since she's been coupled with "such an awesome individual". I think she's talking about you Dan.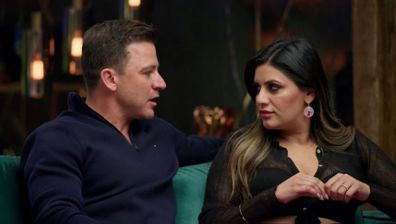 When the experts press Sandy about her feelings for Dan she opens up saying: "I really like him but that also scares me a lot."
But Dan assures Sandy there's no need to be scared.
"I came into this experiment to develop a relationship with a teammate, I have your back and I definitely feel like you have mine," he says.
Sandy and Dan lock themselves into the experiment for another week.
Melissa and Josh
Josh admits that he and Melissa "instantly connected" but were thrown off course after discovering they had very different approaches to communicating about sex.
"I don't like to talk about it very publicly," Josh explains.
He raises his concerns over the First Impressions task where Melissa frothed over the potential size of his hammer.
This revelation shocks Layton to his core and let me tell you Layton, if you think that's a lot you haven't seen anything yet.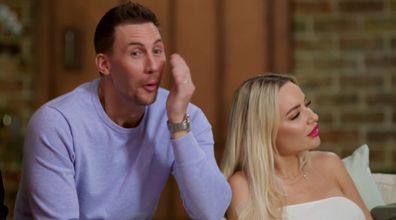 Josh openly says he "really likes Melissa" but isn't convinced about her feelings for him.
"I want you to like me for me, not because I have a penis," he groans. We hear you Josh.
Despite their differences they both decide they want to get to know each other better and find a middle ground between their needs, so they decide to stay.
Ollie is chuffed for the couple and gives a round of applause that gives me flashbacks to Nicole Kidman's seal clap from the 2017 Oscars.
Bronte and Harrison
Bronte pours her heart out to the experts and admits "she's been crying a lot" amid the couple's struggles and constant moving in and out of apartments.
But Harrison has a very different take saying "it actually hasn't been that bad" and that the time he's spent apart from his wife "has been like a holiday". OUCH.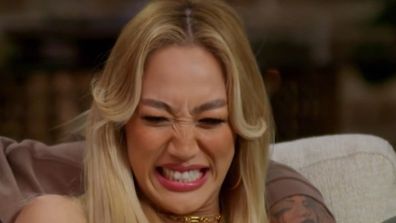 The experts ask the couple to rewind to the moment from which all of their problems stem – their wedding day and more specifically the moment when Bronte found out Harrison had been with another girl the day before the wedding.
"Oh she helped you pack to come to the experiment," expert Mel Schilling makes the horrific realisation.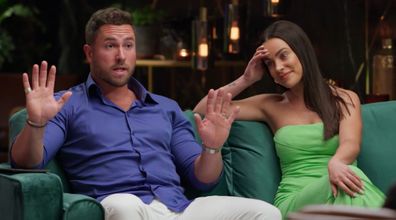 But Harrison still doesn't think there's anything wrong with that because A) it was (less than 24 hours) before the experiment started and B) he didn't sleep with her that day.
"I just didn't feel the need to be faithful to someone I hadn't met," Harrison says, shrugging the whole thing off.
Melinda speaks for us all when she says Harrison is "for the bin"
We see a glimmer of empathy from Harrison when he admits – after much scrutiny from the experts – that he does feel a little bit bad about what he's put Bronte through.
"I did hurt you and I'm sorry," he says as if he has a gun held to his head.
Just when we think Harrison might be turning a corner he reveals he wants to leave the experiment after Bronte just wrote 'stay'.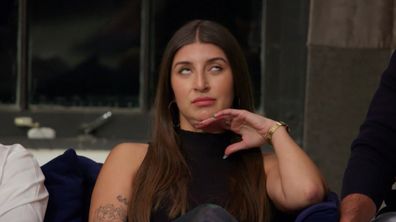 Now the pair really have their work cut out for them.
"How do I trust someone that's just blindsided me," Bronte cries for the billionth time.
Lyndall and Cameron
Even though he's never been in a relationship before, Cameron is under the impression that "this relationship stuff is easy".
But it bodes well for the couple and probably has something to do with the fact that he's been paired with his perfect match, Lyndall.
A smitten Lyndall admits she can even "see herself falling in love" with her new bush boyfriend. Cue the awws. 
Caitlin and Shannon
Like a bull at a gate, Shannon comes clean and admits he "might still be in love with his ex".
"There wasn't really a might to it though, it was pretty solid," Caitlin rightfully interrupts.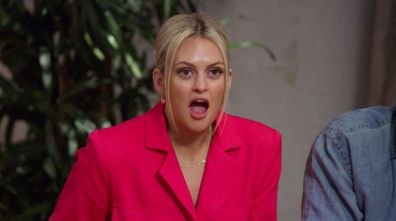 When Mel Schilling presses Shannon about when he came to the realisation that he still loves his ex, he says it happened when he was intimate with her about a week before the experiment.
Wow, I think this might actually be worse than Harrison's admission.
Clearly having a tough day in the office, Mel skips the niceties when it comes to addressing Shannon.
"Do you have the capacity to give Caitlin what she needs? Because she deserves everything, not crumbs," she says.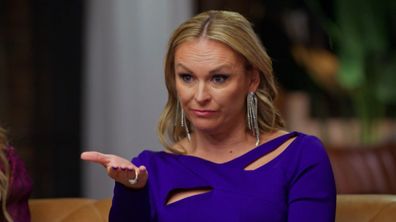 Relationship expert John Aiken has had enough of the grooms taking the mickey out of the experiment and has a message for Shannon, and Harrison too for that matter.
"Your behaviour is unacceptable. It's selfish behaviour, it's disrespectful, it is beyond belief that we're in an experiment where we're matching people who are with other women before the experiment starts," John gives them a stern talking to. 
John reveals that if he'd known about their behaviour when the applied for the show the answer would've been a definite "no".
"That's bulls–t," Harrison challenges John.
"I made that commitment the second I walked down the aisle."
Yes, and not a second sooner Harrison. We're well aware.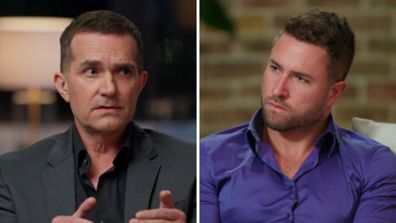 John holds his breath and you can see his brain tick over as he decides whether to give Harrison the serving of a lifetime or to be the bigger man. We're slightly disappointed John chooses the latter.
After Harrison makes Caitlin and Shannon's time on the couch about himself, the experts finally hand it back over to the couple in crisis.
Shannon says he's putting his ex behind him and that he is "all in" for Caitlin while Caitlin says she "owes it to herself" to have another go and they both write 'stay'.
Only time will tell if the pair can turn it around.
Married At First Sight continues Monday to Wednesday at 7.30pm and Sunday at 7.00pm on Channel 9 and 9Now.