Recap | Married at First Sight on Nine – The Retreat certainly shone a light on the strengths and weaknesses of all the couples in the experiment. 
And with everyone living under the same roof it wasn't long before some members of the group took it upon themselves to give other couples their own 'expert' opinion. 
But with a Commitment Ceremony looming the real experts are ready to have their say and give a more qualified judgement…
Alyssa and Duncan
It's no secret that Alyssa and Duncan struggled during The Retreat.
Alyssa feels like she isn't a priority and the couple haven't had any success talking about the issue behind closed doors, so they're trying their luck with the experts. 
"Duncan said, 'Well what priority am I going to be to you?' and to me that was kind of like a dig that my child is always going to be my first priority and that he'll always be second priority," Alyssa explains.
But Duncan assures the experts that it's not an issue for him and that "he's happy to "manoeuvre his lifestyle around Alyssa's lifestyle".
Duncan doesn't know what else he can do to make Alyssa happy and admits her high expectations are '"definitely a concern".
The criticism is too much for Alyssa who storms out into the corridor in tears.
"I feel sick," she cries.
Duncan chases her and does his best to calm her down but Alyssa "just wants to go home".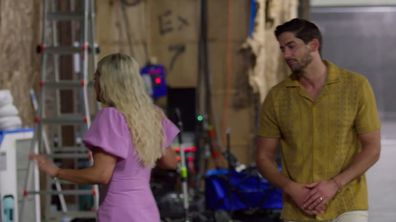 She steps into the elevator and when Duncan asks if she wants him to come with her she simply lets the doors close on him, leaving him to return to the couch alone.
Alessandra Rampolla admits that "this level of reaction seems a bit intense" and asks Duncan what he thinks brought it on for Alyssa.
"Little things are big triggers and I'm struggling to work through that," Duncan vents.
"It's tough. She's an amazing woman and we have a great time together and I'm trying to stretch to be the kind of partner Alyssa needs but I feel like I'm walking on eggshells." 
Just as Duncan finishes his sentence, Alyssa returns and says "it hurts" that Duncan says she has high expectations and that she does "need check-ins to feel like they're not going to run away".
When Duncan leans in to give her hug she recoils saying "please don't". 
Alessandra reminds Alyssa that a relationship "goes both ways", while Mel Schilling warns her that she might be pushing away "one of the most emotionally intelligent men in the room".
Wanting to work things out, Duncan writes 'stay'. Alyssa also decides to stay but under the condition that she can leave the couch immediately.
Tahnee and Ollie
This season's sweethearts hit the couch to deliver the other couples their weekly dose of relationship envy.
Ollie, who is based in Perth, "doesn't want to do long distance" with Tahnee, who lives in Sydney. 
He reveals that he's figured out the nuts and bolts of his career and is willing to move to Sydney so he can be with Tahnee every day.
"We're definitely in the process of falling in love," a bashful Ollie admits to the experts.
Lyndall and Cameron
They say that couples that look alike are more likely to go the distance. And Lyndall and Cameron rocking up with matching hair styles can only be a good sign.
Lyndall says that The Retreat reminded her of their honeymoon and she definitely noticed Cameron being in the outdoors "leaked happiness into their relationship".
Cameron admits that he has "strong feelings for Lyndall and they are growing stronger each day." 
He feels that they are very much moving into the next phase of their relationship.
"The only thing that concerns me is what will happen after this experiment because we both live two completely different lives," he says.
The pair both write 'stay' ready to tackle the tough conversations that might follow in the weeks to come.
Bronte and Harrison
Just about everyone has gone through the five stages of grief as they've watched the highs and lows of Bronte and Harrison's relationship unfold this week.
After a very loved up start to the week, a dramatic Retreat, Harrison dumping Bronte over text and a Dinner Party storm out the couple sit on the couch united. The math ain't mathing and so the experts prepare to take on their most complicated couple. 
Bronte says that hearing people say that Harrison is emotionally manipulating her was "really hard".
"It did plant a lot of seeds of doubt and from that comment Harrison retracted a lot from me and from our relationship. That's why we broke up," Bronte points the finger at Melinda.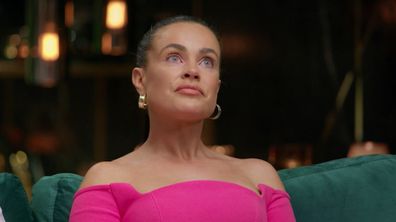 Harrison says Melinda and the group's comments about his and Bronte's relationship being fake "offended" him. "I really reject the notion that I've ever manipulated Bronte," he says.
He then blames Bronte for their relationship issues: "Bronte does get worked up and emotional and she maybe exaggerates…"
Not wanting to hear anymore of Harrison's nonsense, John Aiken cuts him off mid sentence and asks Harrison this simple question: "What behaviours do you think you do to create problems in this relationship?"
After 27 seconds of serious thinking time (yes I counted), Harrison spits out the most profound answer you've ever heard.
"I don't know," he shrugs.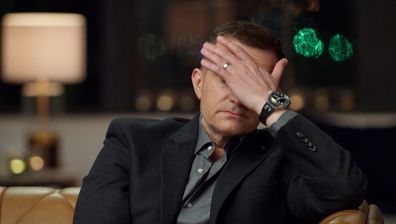 Harrison confirms that he doesn't think he contributes to the relationship problems at all.
At that point all the experts throw their hands in the air and think they'd need to bring Sigmund Freud back from the dead to help Harrison.
Completely exhausted from this couch session, the experts ask for a decision. Harrison stays, and Bronte "isn't ready to let this go" and she also decides to stay. 
Lyndall speaks up as "Bronte's confidant and person who has chased her out of several rooms this week". We've counted a total of at least three.
"I am sitting here in disbelief," Lyndall tells her friend.
"Bronte you're being emotionally manipulated".
Despite everyone nodding their heads in agreement with Lyndall, Bronte disagrees and doubles down on her decision to stay.
Evelyn and Rupert
The experts notice the "physical comfortability" between Evelyn and Rupert and it seems this week they've progressed quite a lot.
While they haven't gone all the way with an "adult hug" (as Rupert calls it), they both admit the sexual attraction is definitely there.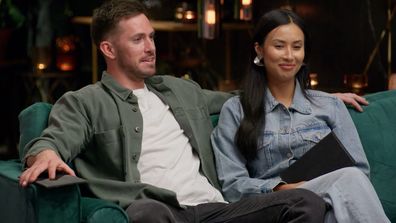 "I feel sexually attracted to Rupert because he is genuine, he is funny and he's a gentleman," Evelyn gushes.
And Rupert says he feels the same toward Evelyn "at any given time of the day".
Having had the best week he's had on the experiment so far, Rupert stays, as does Evelyn.
Melinda and Layton
They explain the dramas that unfolded with Harrison and Bronte during the week and Melinda is chuffed with the way that Layton "fiercely" defended her.
"I'm always going to have Mel's back if I feel that she's been disrespected," Layton declares.
And while Melinda is happy that Layton stepped up at the Dinner Party she wishes he'd had defended her earlier.
Layton says that's only because he's "an analytical thinker". On that note, the experts encourage him to be more in touch with his emotions.
And with a bit of homework for the week, Layton chooses to stay as does Melinda.
Claire and Jesse
While Claire and Jesse were making quite the comeback, the experts notice a big shift in their dynamic.
"The straw that broke the camel's back was Harrison's comment about Claire only wanting to stay to protect her self image," Jesse admits.
For Jesse, it was tough to be reminded of the Adam and Claire kiss yet again. 
Claire reveals her high hopes for a future week of dates, moving back in and getting more physically intimate and she says that those plans were definitely derailed by Harrison's comment.
John is not impressed with Harrison's meddling.
"You've thrown a grenade into this relationship and thrown it apart based on something you're not 100 per cent sure about," he points the finger at Harrison. 
Jesse feels "overwhelmed" and Claire is saddened that all their hard work to turn things around was undone by Harrison.
Despite all the fun and feelings that Jesse and Claire share, Jesse just can't get past the fact that Claire cheated on him. 
Having reached his limit, Jesse chooses to leave and Claire doesn't "want to make Jesse stay in a situation that he doesn't want to stay in" so she also writes 'leave'.
Jesse admits that he wouldn't have written 'leave' if it hadn't been for Harrison's comments.
"There is a lesson here for all of you, especially you Harrison," John says to the group. 
Married At First Sight continues Monday to Wednesday at 7.30pm and Sunday at 7.00pm on Channel 9 and 9Now.

Other TV Central Nine content HERE