Recap | Married at First Sight on Channel 9 – The Partner Swap Challenge rocked more than a few relationships. 
Melinda and Layton say they're in "a good place" but things between them are still unresolved following their last argument. 
And for Lyndall and Cameron, the task got them thinking about their plans for the future – or rather lack thereof.
Cameron has made it clear to Lyndall that his remote work means a long distance relationship is the only way they'll be able to make things work. But he hasn't been completely honest about the length of time he could be away.
"I wanted to tell her the truth but I didn't really know how to say it because I'm scared of how Lyndall's gonna react when I tell her," he admits to cameras.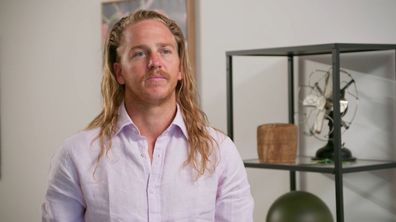 Down the hall, Bronte confides in Harrison about the Girls' Night. The bride stormed out after she was criticised over the authenticity of her relationship with Harrison.
"I can't sit here and keep defending us, myself, you, because I'm being punished for being matched with you and for trying," Bronte vents.
But Harrison feels like Bronte is pointing the finger at him and when he reverts to his usual tactics Bronte feels like she's being gaslit…again.
"It's totally unreasonable for him to sit on that couch and play victim and act all sad," she tells cameras.
Bronte feels like she's hitting her head against a brick wall and honestly, same.
"I can't keep going around in circles. You and I are not good, we're not," she tells her husband.
When Harrison asks what Bronte wants to do next, she says: "I want to go home. I think that's obvious. I have nothing left."
Turns out she really means it this time.
"I'm literally going on a plane and going home," she tells producers.
Cocktail Hour
Despite his wife supposedly flying home, Harrison decides he's still going to get his free feed at the Dinner Party.
But when he rocks up to the Dinner Party alone, it doesn't go unquestioned.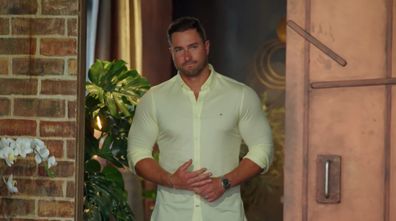 As Harrison starts to explain that he and Bronte "aren't in a good place" he is saved by none other than frenemies Melinda and Layton and their timely arrival.
And after everyone gets over the fact that Duncan and Layton are dressed in identical outfits, the focus returns to Harrison.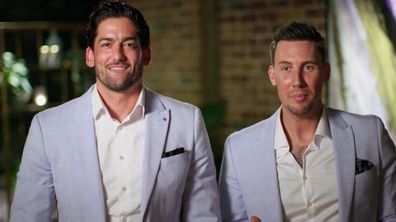 It's not only the matter of his missing bride, Rupert also wants to know why Harrison again questioned Evelyn'sintegrity over the Butt Dial when they were supposed to have buried that hatchet weeks ago.
"I'm disappointed that's come back to the group because that was supposed to stay between me and Melinda," Harrison sidesteps the question.
"Myself and Mel shared a lot over those three days and we did have discussions that we agreed would stay between us."
Harrison wants to avoid the spotlight and put it all behind him but Rupert won't let him get away that easily calling him "the common denominator" of all the drama.
"Just own it," Rupert says.Play Video
Harrison gets called out for stirring the pot
When Harrison refuses to own it, the group redirects their attention to the matter of the missing bride Bronte but Harrison "doesn't really want to talk about it".
And yet again Harrison is saved by the bell, or rather the clink of champagne glasses signaling dinner is ready.
Dinner Party
The group only becomes even more curious as they notice there is no place card set for Bronte.
"Where is your wife?" Melinda asks. Harrison answers with a simple shrug.
"No one knows where she is, not even Harrison," Melinda tells the cameras.
When Melinda asks why Harrison is at the Dinner Party when his wife is missing he snaps back, "Am I not allowed to hang out with my friends?" It's a line that has most of the group in giggles.
Harrison woefully explains that Bronte has thrown her hands in the air and said she has nothing left to give to their relationship.
He doubles down on the end of their relationship saying there is "unequivocally no chance" he will write 'stay' at the next Commitment Ceremony.
"We did have a good long run of being really great together, it's not like it's been a yoyo every week," Harrison says. Honestly is this man describing someone else's relationship?
Alyssa isn't buying whatever Harrison is selling but she's sick of the Dinner Party being consumed by Bronte and Harrison's 'fake' relationship and wants to use the time to focus on real relationships with real problems.
For some unbeknownst reason, Cameron takes that as his queue to tell Lyndall the truth about his working arrangements.
"I think it's time to face the music," he says.
He tells Lyndall there's no real point in her moving to him because he could be out in the bush for "six months to a year" without reception. 
It's a revelation that is "really hard" for Lyndall to hear.
"I knew he was going to be out working remote but I didn't realise just how long," she tells cameras.
"I just went into shock.
"I really don't know what we're going to do."
Cam says there's no real solution and that Lyndall will just have to deal with him being away for so long. Lyndall is clearly frustrated by Cam's inflexibility and wonders if she's "going to be OK with that".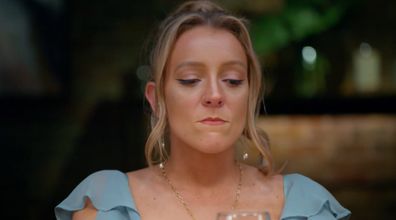 After the Partner Swap Challenge made him Lyndall's unofficial relationship coach, Ollie quizzes Cameron and asks if he would be willing to quit his job for Lyndall.
Cameron says a lot of words, but basically the answer is no. 
Things get worse when Melinda asks if Cameron was willing to move for love when the experts asked during the application process.
When he answers "yes" it's clear that he is willing to move for love just not for Lyndall. That's got to be a sucker punch to the guts. Poor Lyndall.
But Cameron takes a swig of his beer like it's no big deal. 
"I don't know if Cam realises what he's actually saying. The whole group realises what he's saying here, Lyndall certainly does as well," John Aiken observes.
"That was devastating that I'm not the person he was willing to [move] for and that's the thing that hurts," Lyndall admits to cameras.
Harrison pipes up with his own solution to the problem – that Lyndall should do "some remote accounting". But no one is taking relationship advice from the man who has fronted up to the Dinner Party without a wife. 
Across the table, Melinda and Layton talk about their own potential interstate moves. Somewhere in the mix, Layton rehashes the drama surrounding the Partner Swap Challenge, namely his disdain for Harrison moving in with Melinda, him moving in with Bronte and Melinda's general lack of support.
He gets frustrated when Melinda cuts in but the group seems to side with her and think a "close minded" Layton is seeing things too black and white.
"I knew as soon as this came up we were going to butt heads," Melinda sighs.
And butt heads they do.
Things go south when Layton brings up an apparent joke Melinda made about putting keys into a bowl. Melinda calls it a lie.
And on that note Melinda pulls 'a Bronte' and storms out of the Dinner Party. 
Married At First Sight continues Monday to Wednesday at 7.30pm and Sunday at 7.00pm on Channel 9 and 9Now.
Other TV Central Nine content HERE