Recap | Married at First Sight on Channel 9 – While most of our couples are busy packing for Homestay Week, Alyssa and Duncan are hashing out yet another tense Commitment Ceremony.
Alyssa is still "really hurt" that Duncan didn't tell her how upset he was feeling but Duncan just feels like Alyssa is prioritising her feelings over his.
"Look what happens when I do [share my emotions]," Duncan points out.
Alyssa doesn't appreciate the "dig" and tells her groom: "You better get packing."
But Duncan's headspace isn't in the best place.
"You start to think if you're grasping reality the right way, [or] is this person trying to find things they don't like about me," he tells cameras.
Nothing will be better for Duncan's confused mindset than a week spent at each other's homes.
And on that note, the couples jet far (and not so far) to see just how their partner lives…
Lyndall and Cameron
Not one for the big smoke, Cameron has been itching to get back to Darwin pretty much since he stepped foot into the experiment.
And Lyndall has big hopes for Homestay Week. Her latest theory – that Cam being his "best and happiest self" at home will fix all their relationship problems.
Cam's flatmate Cal has his own theory about the relationship: "If it was to work she'd need to come to the party with some of the territory traits, she'd need to learn to fish and hunt and be a bush girl."
With both theories in mind, Lyndall does her best to go into full country girl mode and gets down and dirty – even feeding fish from her mouth.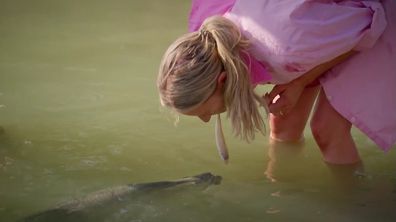 It's pretty ironic considering she's gotten more of a kiss from a fish than her own husband on this trip.

And while Cam's friends are out cooking a barbecue, the mood between the couple takes a sudden turn with a confrontation breaking out over Cam's resistance to show affection.
"Why the f–k are we together if you don't ever want to kiss me like, ever?" Lyndall asks.
"It just doesn't make me feel like you really want to be with me."
But Cam doesn't see the big deal. "This is ridiculous," he tells her.
With Lyndall's hopes that having Cam back in his hometown would solve all their problems being shattered, she starts to worry.
Not wanting her to be uncomfortable in front of his friends, Cameron apologises and does his best to comfort Lyndall.
"It does suck seeing Lyndall upset," he admits.
Cameron and Lyndall do their best to smooth things over, but it seems their band aid solution failed with the couple getting into another argument over the matter in front of Cam's friends.
Things get so heated that Cam's friend Luke – who is seated smack bang in the middle of the quarrelling couple – politely asks if he can take a step outside the boxing ring.
"Yeah, I didn't see that one coming, real awkward," Luke tells cameras after finally making his escape.
It's safe to say that the Homestay visit has only magnified Lyndall and Cameron's problems.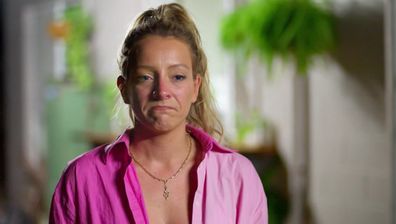 "I feel like Cam doesn't want to fight to make this work. It doesn't actually matter what I do while I'm here. I just feel like I'm hanging out with a mate," Lyndall admits to cameras.
"It's hard to see me being really happy in that relationship."
Evelyn and Rupert
In an effort to step up his romance game, Rupert sets up a little paint and sip in Evelyn's apartment.
The sweet date idea certainly gets Evelyn swooning: "I think Rupert's first attempt at wooing me is definitely not going to go not appreciated, however I feel like I need to take control of this date." 
And Evelyn quickly takes the reins of the date by turning it into a body painting session.
The body painting seems to be working with Rupert opening up about his three year plan and the couple even talking about kids.
"Knowing that our key goals and both of our futures look very similar is a massive thing," Rupert tells cameras.
And the heat between the couple turns up a notch as Evelyn leans in for a cheeky smooch.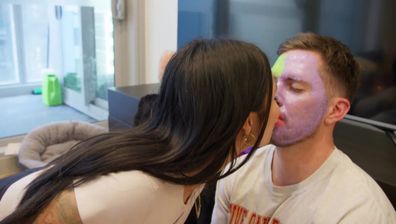 "If I knew painting my face half green and half purple was all it took to get a kiss I would've done that a hell of a lot earlier," Rupert jokes.
And Rupert must've never washed his off his Braveheart face paint because overnight "adult cuddles happened".
"I'm officially out of the friend zone," Rupert beams.
Alyssa and Duncan
Despite Alyssa and Duncan having their fair share of ups and downs, there's one problem they don't face and that's distance. The pair only live 20 minutes apart from each other – what a bonus!
Stop one on their joint tour of the Northern Beaches is lunch with Alyssa's mothers' group friends Natalie and Nadia.
As fellow mums, they're quick to quiz Duncan over how he feels about potentially being a stepfather and being second priority.
Duncan says he's OK with that and always has been. "I think I've said that sentence probably 20 times in this experiment," Duncan's patience starts to wear thin.
Alyssa starts talking about her busy schedule and reveals she'll only be available to see Duncan every Wednesday and every other weekend due to commitments with her child.
It's the first time Duncan is hearing of the specifics of when he can see Alyssa – a matter that has been an issue for the couple for some time now.

"Call me a bad person if in front of three people I said, 'Yeah I think that could work' but I have to sit and think about that", Duncan reveals what he really thinks of Alyssa's revelation to cameras.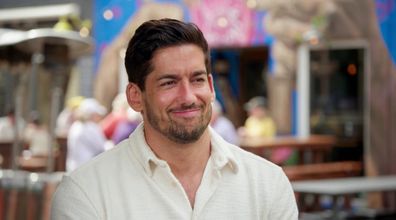 Duncan is pretty peeved that he got the information he's been asking for for weeks in "a public forum and not personally".
And he's hoping to get his sister Renee's opinion on the matter as she joins the couple for coffee back at his apartment.
Renee rocks up and a quick side note, the genes in this family are strong because Renee is just as stunning as Duncan.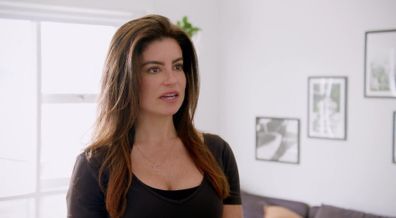 The matter of quality time comes up and Renee throws in her two cents: "I would hope that down the track that you are living together and you are a family unit, in time."
Alyssa and Renee both notice that Duncan is being unusually quiet, but as Alyssa ducks off early to pick up her son from school Duncan finally opens up to his sister.
"Alyssa gets to decide when we see each other, that's based on her schedule. I don't get to decide," he vents.
Duncan expresses his concern that the first time he found out the specifics of when he could see Alyssa outside the experiment was only yesterday in front of her friends.
And when Renee asks why Duncan hasn't had these tough conversations with Alyssa yet Duncan explains that Alyssa is always breaking down.

"That's a big problem," Renee remarks.
With some pretty big question marks around their relationship Duncan wants to clear the air before Final Vows, so he organises a special boat date for Alyssa.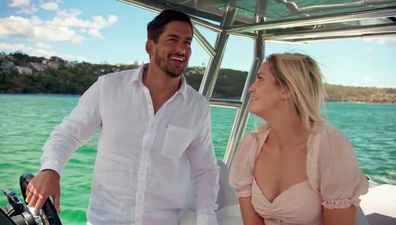 Duncan takes a deep breath and revisits the idea of schedule.
"Why tell your partner at the end of an experiment that you can see them three times a fortnight, maybe four, a lot of people would say that's part time relationship," Duncan says.
"Why didn't you bring this up earlier on?" he asks Alyssa.
But Alyssa gets defensive and remarks: "Why didn't you?"
The conversation then takes a turn as Duncan brings up his idea of a healthy relationship.
He hopes the past few weeks were only a rough patch because "if that's Alyssa's idea of a healthy relationship, that scares him".
It's a shock to Alyssa who didn't think there was much wrong with their relationship.
"Yeah we haven't been perfect, we've had some really tough times over the past couple of weeks but that doesn't mean I haven't enjoyed them. This is probably the healthiest relationship I've been in," she tells cameras.
Duncan's romantic ocean date is effectively ruined with Alyssa crying on one side of the boat and him drinking a glass of wine alone on the other.
"I'm more confused than I was at the start of the day," he tells cameras.
Married At First Sight continues Monday to Wednesday at 7.30pm and Sunday at 7.00pm on Channel 9 and 9Now.
More TV Central Nine content HERE