Our newlyweds are in the fast lane, and barely a week after meeting they are moving into their first homes as husband and wife. 
As if that's not enough pressure, the experts throw in a lineup of Confessions Week tasks that are designed to help them develop deeper emotional connections but more often than not, end up doing the total opposite. 
Let's see how our couples fared with their Confessions Week tasks.
Bronte and Harrison
Bronte is nervous about moving in with Harrison after she was left in tears, again, when he persisted, again, that there's nothing wrong about him having been in a relationship a day before entering the experiment.
"I didn't get an apology for the things that happened and for me to truly move forward I need him to acknowledge that he's hurt me," Bronte explains. 
But Harrison has other ideas, and thinks that a miniature cake will smooth things over with Bronte.
When Bronte doesn't do somersaults over his cake and instead asks for an apology for making her cry, having a girlfriend the day before they got married and saying she's not sexually attractive, Harrison is dumbfounded.
"What do I have to apologise for?" he says, completely dead pan.
"I'm also going through a lot of things at the moment."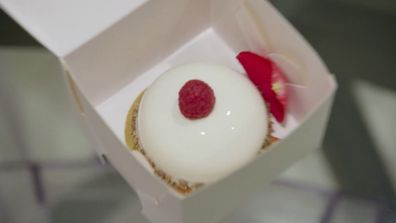 And a total of three minutes after they move in together, Harrison moves out into his a separate apartment.
Harrison believes that the only way for him and Bronte to work things out is for the experts to "hold her accountable".
Claire and Jesse
Despite suffering setback after setback, Claire and Jesse are going to have a crack at living together.
Jesse gets to the apartment before Claire and gives his Shaynna Blaze-style critique of the apartment's interior design.
Jesse loves the Japanese fighting fish artwork hanging on the wall and thinks they're very symbolic of his and Claire's relationship. He does not like that the décor will likely "give Claire a lot to talk about".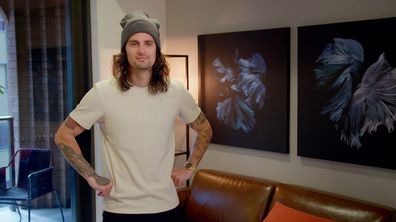 In the hopes of turning over a new leaf, Claire and Jesse write letters to each other where they must reveal a deep secret about themselves.
Jesse opens up to Claire about his past relationship and reveals he was "kept a secret from his ex's friends and family for two years".
It's an experience that Jesse says "did a lot of damage". 
According to Claire, the letter writing task is "exactly what they needed".
"My favourite side of you is your soft side when you're real and you talk and you get deep. It makes me like you so much more," she tells Jesse.
Even Jesse admits that the letter has brought him and Claire "closer together".
"I can objectively see that Claire is a well-meaning person," Jesse tells cameras.
"Claire is a loud person, but she's just trying to connect, not trying to piss me off."
Could this be a fresh start for these two?
Alyssa and Duncan
While the letter works wonders for Claire and Jesse, it highlights some problems on the so far perfect Alyssa and Duncan.
In the spirit of the task, Alyssa decides to tell Duncan something that "she's not proud of" and "could change his perception of her". What could possibly go wrong?
Alyssa reveals that she was "the other woman" in a six-month affair with a married man.
The news leaves Duncan shell shocked.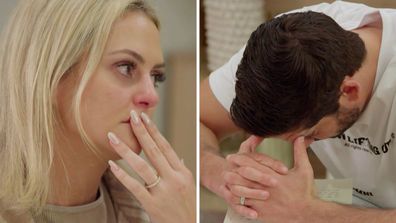 Having been cheated on himself, Duncan isn't letting Alyssa convince him that it was "just a mistake". He says it was a "choice" and "extremely poor behaviour".
"When you hear a story like that, you do question people's moral compass," Duncan admits.
A day later and the "dynamic has completely changed" for our fairytale couple.
But there's just about nothing that our Prince Charming Duncan can't handle. After he learns a bit more about the context of Alyssa's past relationship he reassures her that "it doesn't change how he feels about her".
Order is restored and Alyssa and Duncan are back on track to having a happily ever after.
Caitlin and Shannon
The laidback couple are challenged with the infamous Photo Ranking task, where each participant ranks their co-stars in order of who they think is the most attractive.
Shannon wastes no time getting into the nitty gritty.
Without taking a breath, Shannon ranks Melinda first and calls her someone "that he would be happy to show off to his mates".
Caitlin – like all of us – is cringing hard.
"There's a way to express that, that doesn't make it seem like she's a notch on your belt," Caitlin says.
Shannon continues to rank the women and says he doesn't usually have much success when trying to approach women of this calibre. I mean, I can hardly see why? 
The moment of truth arrives and it's time for Shannon to place Caitlin in the lineup. And while there's a nice empty space for Caitlin's mugshot fifth in line, Shannon decides to woo his bride by placing her in the top three. What a nobleman.
But soon enough, the wires in Shannon's brain clearly short circuit because he then decides to move Caitlin's photo and drag it down the pecking order.
He justifies the new order by saying the other girls' "natural beauty shines more than Caitlin's".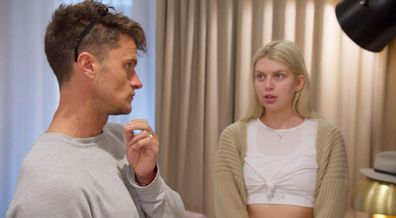 But he assures Caitlin that all hope isn't lost for her and she has "the potential to level up".
"I haven't seen the other girls without makeup but I've seen you without makeup," Shannon continues to speak for some unknown reason.
"I just don't think he knows what he's saying," Caitlin says.
Things go from bad to worse for the couple when Caitlin later overhears Shannon on the phone in tears to his ex – the groom's on-again-off-again fiancee with whom he shares a child.
Understandably, Caitlin has some questions.
"I will be devastated if there's a point in which he's like 'I'm not over my ex,'" she admits. 
Initially Shannon doesn't have much to say but decides that the very least Caitlin deserves is the truth.
"I came into this wanting to break that cycle [with his ex], and I just feel like I can't," he cries.
"I'm still thinking about my ex."
"I hate that I even have to say this…I still love her."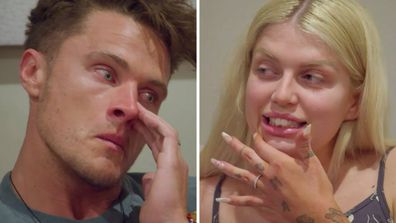 Caitlin reacts as no one would, she comforts Shannon and rubs his back.
Shannon turns to Caitlin and says the only decent thing he's said all episode: "You're an absolute saint."
Married At First Sight continues Monday to Wednesday at 7.30pm and Sunday at 7.00pm on Channel 9 and 9Now.