The original couples are officially midway through the experiment.
And as halftime entertainment the producers have called in their nearest and dearest for Friends and Family Week.
Although for some couples, the arrival of their loved ones isn't as entertaining as it is stressful.  
Take for instance Lyndall and Cameron.
Lyndall and Cameron
Following an incident where Lyndall's mum Kelly-Anne asked Cam to hug Lyndall over a FaceTime call, the bride is "nervous" for everyone to come together – especially considering Cam's reaction to the hug request was to walk off.
Cam says he's moved on from the incident and will try to show more affection, but says he did mention it to his mum Fiona who in his words "has no filter".
With both mums about to come face to face, I would say that move wasn't in Cam's best interest.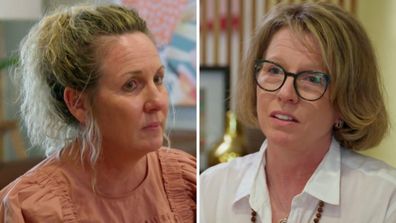 Kelly-Anne apologises for making Cam feel "pressured" to hug Lyndall. She hopes her apology is the end of the story but she is sorely mistaken.
Filter-less Fiona chimes in and says while the token apology is nice "you can't take words back". She ups the ante and adds that if she were on the receiving end of Kelly-Anne's FaceTime call she "would've hung up". 
After a very awkward lunch, Cam and his mum have a one-on-one chat and she tells him that Lyndall's need for affection is an "insecurity".
"I think it's craving for attention," Fiona adds.
It's a conversation that Cam stupidly tells Lyndall about and when he does, a battle of who has the better mum ensues. 
Cam bangs on about Lyndall's mum pressuring him to hug her.
"You seem to believe everything your mum says," Lyndall snaps back. "And so do you," Cam responds.
Lyndall says she listens to her mum because "she's a good person." It doesn't go down well with Cam, who takes that to mean that his mum isn't a good person and storms out.
But later in the day Cam returns ready to hash out their differences.
"We're OK and I really want to work through this," Lyndall accepts his apology.
Bronte and Harrison
The last time Harrison and Bronte's sister Kirra were in the same room was at their catastrophic wedding – where it came out that Harrison was talking to multiple women in the lead up to the wedding day. Safe to say Kirra was fuming about her sister's match.
But Harrison is here to win Kirra over. "If Bronte and I are in a good place than Kirra and I will be in a good place, well that's what I'm hoping anyways," he tells cameras.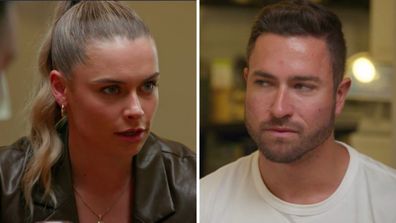 Kirra still has her doubts about Harrison's intentions and admits she was "super sceptical" with how things ended at the wedding.
Just as Harrison is smoothing over how good everything's been going, Bronte dishes to her sister that Harrison took a girls' number while out at a bar.
It's "alarming" for Kirra, but Bronte says "some things aren't worth fighting over". 
Determined to make sure her sister's heart isn't broken again, Kirra warns Harrison that his time will come during Homestays when he's on "her turf".
Harrison "doesn't appreciate the slight threatening tone" in Kirra's voice but decides to back down to keep the peace between him and Bronte.
Looks like Kirra won round one of this ring fight.
Claire and Jesse
Claire is on a mission to prove to Jesse how much she cares about him, so she has a string of activities lined up that she hopes he will love.
The pair start off with a game of squash. Turns out Jesse is an undercover squash champion and he thoroughly enjoys the "playful" and "carefree" date.
Even still, he has his doubts. "It's nice to see Claire making an effort but I wonder if the amount of positivity this week will outweigh what exists within me," Jesse tells cameras. 
Next stop for the pair – a guitar shop. And heavy metal fan Jesse is seriously in his element.
Jesse gives Claire a crash course in guitar playing and the worst part of the date is Claire's musical talent.
"I know it was her first time trying to play guitar but that was painful," Jesse laughs.
Claire has one more surprise in store for Jesse. She gifts him a crystal. Umm Claire do you not recall Jesse's stance on crystals?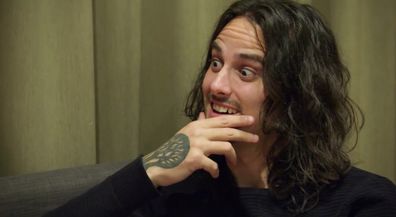 But despite how he usually feels about crystals, Jesse is so impressed by Claire's efforts that he says he'll "probably enjoy the crystal more than the guitar pics".
The pair look to be turning over a new stone – a carnelian to be precise.
Sandy and Dan
Sandy has woken up this morning alone again while Dan is out for yet another run.
As it turns out, Dan's morning runs now carry on into the afternoon and his fitness regime also extends into pamper sessions at the day spa, not that Sandy got an invite. 
When he finally returns from a long day of running and relaxation Dan is perplexed that Sandy is "in a mood".
He decides to better her mood with this appalling dig: "If I spent as much time at the gym as you do on this f—ing couch, I'd be absolutely shredded and ripped to no end.
"I'm out running, hiking, I'm out in the ocean because I'm in f—ing beast mode."
"When I'm running I'm only running with people that can keep up with me."
Sandy – like me – is left absolutely speechless by Dan's tirade.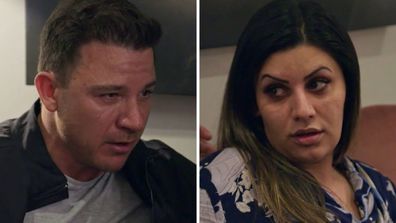 Completely drained from the interaction and probably doing her best to not unleash her own "beast mode", Sandy remains tightlipped.
But Dan continues his bizarre lifestyle rant: "My lifestyle is active, it's adventurous, it's boardshorts and bikinis, it's a beach world." And at this point I'm starting to think that Dan genuinely believes he is Mitch Buchannon from Baywatch.
"I feel like I'm not good enough for you, that's how you make me feel," Sandy snaps.
And Sandy only feels worse the next day when Evelyn comes to her baring bad news.
Let's rewind a little bit. Rupert has woken up from a boys' night out and he's probably too hungover to remember that he accidentally butt dialled Evelyn.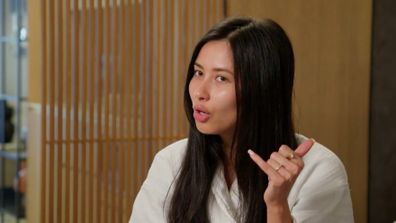 Evelyn says the butt dial call was "super clear" and she could hear everything.
"I did listen in and unfortunately heard what two of the husbands were saying about their wives," she says.
Hugo and Dan – "especially Dan" – are the grooms in question. And apparently "what was said was pretty disgusting."
Evelyn says she "wouldn't be able to forgive herself if she didn't tell the wives," so that's exactly what she does.
Evelyn meets Sandy, and before she even gets to the awful things that were said, Sandy reveals that "Dan said he was with his daughter". So she's already annoyed that Dan lied about his whereabouts. 
"He was insinuating that he was too good for this experiment and too good for you," Evelyn explains.
"Once I asked Rupert what was going on he told me that [Dan] was showing all the boys photos of his ex-girlfriends… like boasting about how hot they were."
The information is a blow to Sandy's system but she says "she'd rather know".
"I'm so glad that you told me this because I thought I was going crazy," Sandy sobs.
"You're not crazy, you deserve better than how he treats you," Evelyn assures her.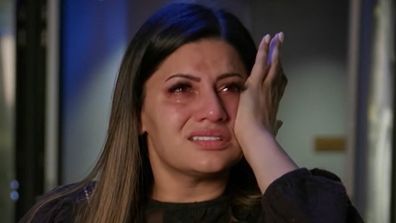 With Evelyn on her way back to her apartment, Sandy takes a moment to process everything and breaks into tears thinking of all she's sacrificed to be in the experiment.
"I went against my parents, my dad's biggest concern was that I would come here and I would be disrespected and that's exactly what happened," she cries.
"I just feel broken."
And where is Dan when all this happens? On the couch watching TV. Oh, the irony.
Married At First Sight continues Monday to Wednesday at 7.30pm and Sunday at 7.00pm on Channel 9 and 9Now.