November on Shudder, AMC+ and Acorn TV – Acorn TV highlights for the month of November include Mrs Sidhu Investigates, The Gone, Baptiste, The Chase and Mrs. Wilson.
November on Shudder, AMC+ and Acorn TV – Shudder highlights for the month of November include Boulet Brothers' Dragula, The Tank and Mastemah.
ACORN TV
Mrs Sidhu Investigates – Acorn TV Original Series


New Series Premieres on Acorn TV and AMC+ on Monday 6 November
Adapted from the popular BBC Radio 4 series, Mrs Sidhu Investigates follows Mrs. Sidhu (Meera Syal, The Kumars at No. 42, Yesterday, Anita and Me), a high-end caterer with a taste for crime who solves murders and other ghastly crimes amongst the affluent residents of Berkshire.
A lifetime of being an "Indian Aunty," invisible to the elite, has sharpened her skills as an investigator: an instinct for truth, a warmth with people and a persistent sense of nosiness. Recently widowed, Mrs. Sidhu juggles her new catering business with wrangling her wayward son, Tez (Gurjeet Singh, Ackley Bridge), all while serving up justice to those who believe they are above the law.
Her forays into crime see her form an unofficial partnership with the world-weary DCI Burton (Craig Parkinson, Line of Duty, Grace), who reluctantly accepts that together, they're an unbeatable crime fighting duo, much to the bemusement of his partner, DS Mint (Naana Agyei-Ampadu, Death in Paradise).
The Gone – Acorn TV Exclusive Series


Two-Episode Premiere on Acorn TV and AMC+ on Monday 20 November; episodes continue weekly
When a young Irish couple vanishes from a small town in the North Island of New Zealand, Irish Detective Theo Richter teams up with Kiwi Detective Diana Huia to find them.
Amidst the search and a race against time, the pair has to contend with a community's growing disquiet that the disappearances may be linked to the historical Mountain Murders, whilst also battling their own personal demons. Starring Richard Flood (Grey's Anatomy), Carolyn Bracken (Dublin Murders), Michelle Fairley (Game of Thrones) and Acushla-Tara Kupe (Under the Vines).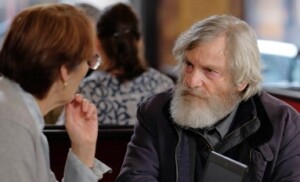 Baptiste


Series 2 Binge Premieres on Acorn TV and AMC+ on Monday 6 November
Starring Tchéky Karyo, Julien Baptiste is not the man we left at end of series one. After enduring a horrific personal tragedy, Julien has pushed Celia away and is looking for any distraction – whether that be the bottom of the bottle or a new case – to consume him. When Ambassador Emma Chambers' whole family disappears in the Hungarian mountains, Julien finds his new case.
The Chase


Series 2 Binge Premieres on Acorn TV and AMC+ on Monday 13 November
Welcome to the world of Chevin Chase, a family-run veterinary practice in Yorkshire, where sparks fly and backstabbing is all part of the business. When George Williams (Keith Barron) announces his retirement, his pregnant daughter, Anna (Gaynor Faye) is left to pick up the pieces of the struggling practice with her estranged sister, Sara (Nicola Stephenson).
Surrounded by a multitude of animal illnesses, the staff must also contend with problems of their own as tensions mount, personalities clash and dark secrets are exposed.
Mrs. Wilson


Binge Premiere on Acorn TV and AMC+ on Monday 27 November
In this drama based on true events, Ruth Wilson (His Dark Materials) plays her own real life grandmother, Alison, whose husband, former spy Alexander (Iain Glen), dies suddenly in 1963.
Soon afterwards, a woman comes to the door, claiming to be Alec's "real wife." Determined to find out who her husband really was, Alison makes discoveries that threaten to tear her carefully crafted world apart.
SHUDDER
The Boulet Brothers' Dragula – Shudder Original Series


Streaming Exclusively on Shudder and AMC+
New Episodes Every Tuesday
Horror's new icons The Boulet Brothers are on the hunt to find the world's next drag monster superstar in this brand new, star-studded fifth season of their hit reality competition show. With new competitors, their challenges, special effects makeup, costumes, and performances, it promises to be truly terrifying and out-of-this-world.
The Tank – Shudder Exclusive Film


Streaming Exclusively on Shudder and AMC+
Premieres Friday 10 November

After mysteriously inheriting an abandoned coastal property, Ben and his family accidentally unleash an ancient, long-dormant creature that terrorized the entire region-including his own ancestors-for generations. Starring Luciane Buchanan and Matt Whelan.
Mastemah – Shudder Original Film


Streaming Exclusively on Shudder and AMC+
Film Premieres Monday 6 November
After a traumatic accident during a hypnosis session, Louise, a young psychiatrist, opens a new office in the middle of nowhere. When she starts analysing Theo, a dark and mysterious man, people around her start to die. Starring Camille Razat and Olivier Barthelemy.
NEW ADDITIONS TO SHUDDER'S FILM LIBRARY




1 November




I Saw the Devil
A secret agent exacts revenge on a serial killer through a series of captures and releases.
A Tale of Two Sisters
After spending time in a mental hospital, a girl is reunited with her sister and returns home, only to see some truly strange events start to happen.
6 November




Final Cut
Things go badly for a small film crew shooting a low budget zombie movie when they are attacked by real zombies.
13 November


Cold in July
When a protective father meets a murderous ex-con, both need to deviate from the path they are on as they soon find themselves entangled in a downward spiral of lies and violence while having to confront their own inner psyches.
Nightmares
Anthology of four horror tales with a supernatural twist based on urban legends.
20 November




Sons of Steel
In a futuristic Australia, a scheme to blow up the Sydney Opera House is discovered. The only way to stop it is to send an agent back in time to prevent the plotters from hatching it.
A Dangerous Summer
When a crummy hotel burns down in Australia, the American co-owner tries to find out whether or not the
fire was deliberately set or just an accident.
More TV Central Shudder content HERE and Acorn TV HERE
November on Shudder, AMC+ and Acorn TV

ABOUT AMC+ / SHUDDER / ACORN TV

AMC NETWORKS – AUSTRALIA

AMC Networks is a global entertainment company known for its popular and critically acclaimed content with a portfolio of brands available in Australia.
AMC+ is a premium streaming bundle featuring a wide range of original ground-breaking dramas, epic fan-driven franchises, comedies, thrillers, true crime, documentary series and films. AMC+ also offers full access to targeted streaming services Acorn TV and Shudder at no additional cost, featuring new films and exclusive series.
The ad-free AMC+ streaming bundle is available now via amcplus.com/au with a special offer of a one-year subscription at the equivalent of $4.99 per month, a 45% discount on the standard monthly price of $8.99 per month. The bundle is also available on Apple, Android and Amazon Fire devices, as well as on Apple TV channels and for Amazon Prime members via Prime Video Channels.
For more information, please visit: Twitter Facebook Instagram
Acorn TV is the definitive global streaming service for sophisticated and well-crafted mysteries and dramas from Britain and beyond including a raft of Acorn TV Originals including Harry Wild, Signora Volpe, Recipes for Love and Murder, Queens of Mystery, The Chelsea Detective, The Madame Blanc Mysteries and many others. Acorn TV offers a free trial and thereafter is just $6.99 per month or $69.99 for an annual subscription. Sign up at https://au.acorn.tv
Shudder is a premium streaming video service, super-serving members with the best selection in genre entertainment, covering horror, thrillers and the supernatural for $6.99 per month. Shudder's expanding library of film, TV series, and originals is available on most streaming devices in the US, Canada, the UK, Ireland, Germany, Australia and New Zealand. For a 7-day, risk-free trial, visit www.shudder.com