November on BBC – BBC highlights for the month of November include Boat Story, Shetland, The Bay, Signora Volpe, Travel Man, The Queen's Guards: A Year in Service, Inside Our Autistic Minds, Lion: The Rise and Fall of the Pride Marsh, Serengeti, South America with Simon Reeve and Supertato.
Boat Story


Australian Premiere
Coming Soon
Starring: Daisy Haggard, Paterson Joseph & Tchéky Karyo
6 x 60′
When two hard up strangers, Janet & Samuel, stumble across a haul of cocaine on a shipwrecked boat, they can't believe their luck. But it soon proves a poisoned chalice when they find themselves entangled with the police, masked hitmen, and a sharply-suited French mobster known only as 'The Tailor'.
Boat Story twists and turns with character-driven, surprising storytelling, hilarious and moving in equal turns. Off-beat humour juxtaposes with high-octane action sequences, on the beautiful but bleak Yorkshire coastline. It's a series driven by unexpected storytelling and enigmatic characters, but at its heart, Boat Story is about two very ordinary people whom the world has turned its back on. It's about whether they're willing, or desperate enough, to do something crazy, to get what they want in life.
Pushed to the very edge, will they be able to play this very dangerous game and come out alive on the other side?
Shetland


Series 8
Australian Premiere
Fridays at 8.30pm from November 10
Starring: Ashley Jensen, Alison O'Donnell & Steven Robertson
6 x 60′
FTA® and Emmy® nominee Ashley Jensen, playing DI Ruth Calder, leads acclaimed detective drama Shetland into a brand-new chapter in the latest season. After thirty years away, Calder, now a detective with London's Met Police, returns to her native Shetland to retrieve a vulnerable witness to a London gangland murder.
Following the departure of DI Jimmy Perez, DS Alison 'Tosh' McIntosh is now in charge in Lerwick and must pause her investigation into a string of sinister animal mutilations to help Calder find Ellen Quinn before it's too late. But Calder has no love for Tosh's adopted home, and their journey into the darker recesses of Shetland's past and present will test their fragile new partnership. Originally based on Ann Cleeves' award-winning novels.
The Bay


Series 3
Australian Premiere
Thursdays at 7.30pm from November 16
Starring: Daniel Ryan, Marsha Thomason & Andrew Dowbiggin
6 x 60′
DS Jenn Townsend, Morecambe's new FLO, is thrown in the deep end when a body is found in the Bay on her first day in the job. She must get under the skin of a grieving and complicated family if she has any chance of solving the murder, whilst at the same time proving herself to new colleagues in the MIU. The pressure is multiplied when her new blended family struggle to settle in Morecambe, proving to Jenn that a fresh start might not be quite as simple as moving to a different town.
Signora Volpe


UKTV Premiere
Mondays at 8.30pm from November 20
Starring: Emilia Fox, Giovannia Cirfiera & Tara Fitzgerald
3 x 130′
To the casual observer, there's nothing remarkable about Sylvia Fox. An intelligent woman in her forties, she answers questions about her work with vague references to an unspectacular career in the Civil Service. Which is only very slightly true – because until recently, Sylvia was a high-ranking British spy.
Sylvia arrives in Italy for the wedding of her niece, disillusioned with her job and in need of a holiday. But when the bridegroom disappears, leaving a dead body in the lake at the bottom of his garden, Sylvia takes it upon herself to solve the mystery and save her niece from disaster.
Despite the dark start to her holiday, Sylvia is enchanted by Italy and is surprised to find herself reconnecting with her estranged sister who lives there. When she stumbles upon a beautiful, derelict old house, she decides to buy it, quit her job and start afresh. But Sylvia was never cut out for a quiet life and finds herself involved in a fresh mystery each week – from the disappearance of a young woman a quarter of a century ago, to the theft of a truffle pig, and a blackmail plot against the son of a Russian politician.
At first, Carabinieri Captain Giovanni Riva resents Sylvia's interference, but he soon begins to seek her help. Perhaps Riva's interest in Sylvia is not purely professional…
Travel Man


Series 2
UKTV Premiere
Tuesdays at 8.30pm from November 7
Presented by: Richard Ayoade
8 x 30′
Following an intrepid series of city breaks earlier this year, Richard Ayoade will return, along with several carefully selected travelling companions, to experience yet more of the most desirable weekends away in the world. Travel Man is a travel show, but not as we know it… Richard has a unique take on travelling. Believing that most of us get too stressed about holidays and spend far too much time on them, Richard shows us how to have the most efficient break possible, with all the boring bits taken out.
Consequently, Richard's celebrity travel companions won't have much time to kick back and relax. Each trip will be treated with ruthless efficiency, no dilly-dallying or loafing allowed. Richard's aim is to get maximum holiday value from the minimum time expended. He's cold, he's calculating, he's ruthless. This is holiday without mercy. So, while we can join Richard on his travels, we'll need to keep up…
The Queen's Guards: A Year in Service


UKTV Premiere
Thursdays at 8.30pm from November 16
5 x 60′
Cameras have been granted privileged access to the oldest regiment in the British Army, The Coldstream Guards.
This five-part series follows teenage raw recruits, high-ranking officers and aspiring army leaders throughout their toughest year on record.
We are behind the scenes at the prestigious barracks at Buckingham Palace and Windsor Castle, as they protect the monarch. Alongside the guard's role in some of the biggest Royal events of the last decade, we witness the relentless training that keeps the men at the top of their game.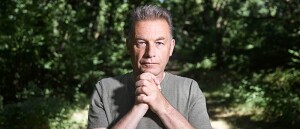 Inside our Autistic Minds


Australian Premiere
Thursdays at 8.30pm from November 2
Presented by: Chris Packham
Since sharing his own autism diagnosis with the world, naturalist and presenter Chris Packham has been flooded with letters and emails from other autistic people, frustrated that their friends, families and co-workers don't understand them. And in this series, Chris wants to bridge the gap.
By teaming up with top film-makers, graphic designers, animators and musicians, Chris helps a group of autistic people create short films to reveal to their family and friends how they're truly feeling inside – what's really going on in their autistic minds.
He helps an autistic comedian reveal to her mum what's really going on inside her head, gives a non-speaking autistic man the chance to take his message to the world and visits the only state school in the country exclusively for autistic girls. He also helps an autistic football fan explain to his friends why change can be disastrous and a rapper, hypersensitive to noise, reveal to his classmates how overwhelming life can be.
"deeply moving…a charming, powerful watch that's hugely intimate" – The Guardian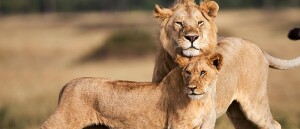 Lion: The Rise and Fall of the Pride Marsh


Australian Premiere
Wednesdays at 7.30pm from November 15
2 x 60′
This ground-breaking film tells the epic saga of Kenya's Marsh Pride, the most filmed lions on Earth, as they battle for survival.
Filmed for over 30 years this is a tale of shifting loyalties, bloody take-overs and sheer resilience. Told by those who filmed them, those who try to protect them and those who have to live alongside them. Habitat loss and huge population growth have driven Africa's lions to the brink. The Marsh Pride have survived, but the threat is growing. While Kenya attempts to conserve them, the future for these apex predators hangs in the balance…
Serengeti


Series 2
Australian Premiere
Mondays at 8.30pm from November 6
Narrated by: Lupita Nyong'o
6 x 60'
New characters. Fresh rivalries. Same spectacular setting. Return to an unspoilt corner of Africa's Serengeti for more real-life animal drama.
The pioneering series returns to capture the dramatic and emotional interconnected stories of iconic savannah animals. There's humour, heartbreak and nail-biting tension as new characters move in and familiar faces continue their stories. Bakari the baboon struggles with family life. Kali the lioness makes a difficult decision.
A family of leopards arrive – and the adorable and adventurous cubs test their mother's patience as they get used to their new home. Immerse yourself in the complex relationships, thrilling battles and tender moments that punctuate the lives of nature's most captivating characters.
South America with Simon Reeve


BBC Earth Premiere
Tuesdays at 7.30pm from November 21
5 x 60′
Author and adventurer Simon Reeve embarks on the second part of his epic journey through the Americas. This time, he's left the North and is heading South.
Simon travels from the jungles of Guyana to the frozen wastes of Tierra del Fuego, exploring one of the most mysterious and extreme continents on earth. He meets indigenous people in Bolivia and Brazil, taking in both cities and deserts along the way. From Rio de Janeiro, to La Paz, to the epic wilderness of Patagonia, Simon enjoys the epic contrasts of this colourful continent.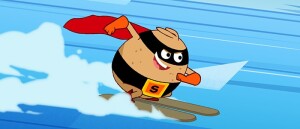 Supertato


Series 1 (New Episodes)
Australian Premiere
Coming in November
14 x 7′
Good battles against evil among the aisles of a local supermarket in this slapstick comedy animation series featuring the world's greatest potato superhero.
The supermarket may be closed but everything is far from quiet. Evil Pea has escaped her icy lair in the freezer and is determined to take over the store forever. Based on the bestselling books by Sue Hendra and Paul Linnet, this brand-new action-packed animation series follows the adventures of Supertato as he and his fruit and vegetable pals do everything they can to try and stop Evil Pea.
Each episode brings new challenges and hilarious silliness – from riding an out-of-control toy dinosaur to building a baguette rocket to visiting the stinky cheese moon in the deli aisle. But will our superhero be able to protect his friends and return Evil Pea to the freezer where she belongs?
See more TV Central BBC stories HERE
BBC programming info can be viewed HERE
November on BBC
All our channel content is available on Foxtel and Fetch.
About BBC
BBC First, BBC Earth, UKTV, CBeebies, BBC World News, BBC Kids and BBC Brit are channels owned by BBC Studios featuring our content. Selected channels are available through a Foxtel, Fetch or Binge subscription.