November on ABC iview – ABC iview highlights for the month of November include The Way We Wore, Australian Epic, Under the Vines, Bill Bailey's Wild West Australia, LA Confidential, Evacuation, Rose Gold, Ghosts, Phoenix Rise, The InBetweeners, Yakka: Australia at Work and All Creatures Great and Small.
The Way We Wore WORLD PREMIERE


Tuesday 21 November
Hosted by actress & internet sensation Celeste Barber, this series uncovers the cultural & historical significance of Australian fashion.
Australian Epic WORLD PREMIERE


Wednesday 8 November
A documentary-meets-musical series where six of Australia's most defining stories are retold as musicals, starting with the story of Australian sport's greatest ever triumph-over-adversity.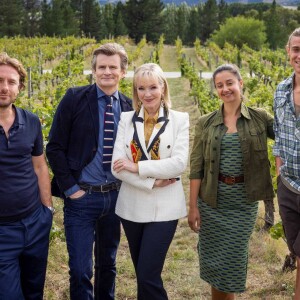 Under the Vines Series 2 FTA PREMIERE


Friday 3 November
A charming romantic comedy drama featuring Sydney socialite Daisy Monroe and ex-London lawyer Louis Oakley trying to run a struggling vineyard in southern New Zealand.
Bill Bailey's Wild West Australia AUSTRALIAN PREMIERE


Thursday 19 November
Join comedian, Bill Bailey in Western Australia, one of the most surprising and extraordinarily beautiful places on the planet.
L.A. Confidential


Friday 3 November
Los Angeles, 1953. Beneath the glamorous veneer of Hollywood lies a crime-ridden city corrupt to its core. While investigating a brutal murder, three very different detectives will rediscover a common bond of integrity.
Evacuation AUSTRALIAN PREMIERE


Monday 13 November
The exclusive and incredibly moving inside story of Operation Pitting: the British Military's life-or-death race to bring thousands to safety in the evacuation from Afghanistan.
Rose Gold AUSTRALIAN PREMIERE


Tuesday 14 November
Go behind the scenes with iconic Australian sportsman Patty Mills and the Australian Basketball "Boomers" to understand what it takes to build a team culture capable of taking them to a history-making Olympic medal.
Ghosts Series 5 STREAM ALL EPISODES


Tuesday 14 November
The BAFTA-nominated supernatural sitcom returns, following the comedy chaos of an unlikely houseshare between the struggling living and the restless dead.
Phoenix Rise Series 1


Friday 17 November
Six outsiders learn the only way they are going to survive school is by sticking together. But can you ever really leave your past behind?
The Inbetweeners Series 2


Friday 17 November
This second series sees our gang of lovable buffoons get a taste of the 'real world' during work experience week, brave the bright lights of London for a night of clubbing, and experience the joys of community service.
Yakka: Australia At Work WORLD PREMIERE – STREAM ALL EPISODES


Tuesday 21 November
From working the land, to digging up minerals, from manufacturing to the services industry, this series explores how work has shaped Australia from the Second World War to the present.
All Creatures Great and Small Series 3 FTA PREMIERE


Saturday 25 November
It's Spring 1939. As a potential Second World War looms, all of our Skeldale family have to consider their purpose in Darrowby and beyond.
November on ABC iview – Returning


The Trial of Christine Keeler
INXS: Live Baby Live
Grand Designs Series 18
a-ha: The Movie
Love The Coopers
Devolution: A Devo Theory
Louis Theroux: The Most Hated Family In America
Office Christmas Party
Mark Seymour and the Undertow
Link to ABC iview HERE
November on ABC iview
More TV Central ABC content HERE
About ABC iview
Less ads, more entertainment. ABC iview is the home of quality Australian content, featuring the best of dramas, documentaries, comedies, and children's programming.
Stream your favourite shows, movies, news, and more on ABC iview for free.