Paramount+ highlights for the month of March include Weird: The Al Yankovic Story, The Real Friends Of WeHo, Corpo Libero (The Gymnasts), The Challenge: World Championship, School Spirits, Transformers: EarthSpark, The Journey: Andrea Bocelli, Unwelcome, Quattordici Giorni (14 Days), Yellowjackets and Rabbit Hole.
Football In March
ALL MONTH LONG
ACTION-PACKED FOOTBALL
It's a bumper month of football action on Paramount+ this month with international and local competitions highlighting the live action.
Kicking off the month, the Emirates FA Cup Fifth Round takes place across March 1 and March 2 before the Quarter-Finals take place mid-month.
Locally, the Isuzu UTE A-League and Liberty A-League competitions continue, with plenty of blockbuster matches and must win head-to-heads especially in the Liberty A-League, as the regular season draws to a close before the all important Finals campaigns kick off in April.
Weird: The Al Yankovic Story
THURSDAY, 2 MARCH
EXCLUSIVE MOVIE PREMIERE
The unexaggerated true story about the greatest musician of our time. From a conventional upbringing where playing the accordion was a sin, "Weird Al" Yankovic rebels and makes his dream of changing the words to world-renowned songs come true. An instant success and sex symbol, Al lives an excessive lifestyle and pursues an infamous romance that nearly destroys him.
The Real Friends Of WeHo
SATURDAY, 4 MARCH
ALL NEW SERIES / NEW EPISODE EVERY SATURDAY
A select group of friends follow their passions in the West Hollywood community, made up of some of the most influential and successful LGBTQI+ celebrities and businessmen.
Corpo Libero (The Gymnasts)
THURSDAY, 9 MARCH
EXCLUSIVE NEW SERIES / NEW EPISODES EVERY THURSDAY
Based on Italian author Ilaria Bernardini's bestselling novel Corpo Libero, the six-episode series revolves around a team of elite female teenage gymnasts engaged in an international competition high up in the snowy Italian Alps.
During what is the most important week of their lives, rivalries are fierce and relationships become complex as the young athletes vie for a chance at making the Olympic team. Tensions and obsessions escalate until it is revealed that one of the competitors is dead and the police suspect murder.
The Challenge: World Championship
THURSDAY, 9 MARCH
EXCLUSIVE NEW SERIES / NEW EPISODES EVERY THURSDAY
In a brand-new limited series, twenty-two of the most iconic, boldest, and fiercest Challenge All Stars from the original The Real World and Road Rules return for a second chance at the ultimate competition as they vie for their shot at the $500,000 grand prize.
Hosted by TJ Lavin, the season will follow competitors as they face unprecedented, over the top challenges set in the Andes Mountains of Argentina. Australia's Brihony Dawson will join TJ Lavin in the premiere episode.
The Paramount+ original series welcomes back many of the biggest stars from The Challenge universe for the franchise's first global tournament. The MVPs include winners and top competitors from The Challenge: Australia, Emily Seebohm, Grant Crapp, Kiki Morris and Troy Cullen.
School Spirits (Season 1)
FRIDAY, 10 MARCH
EXCLUSIVE NEW SERIES / NEW EPISODES EVERY FRIDAY
School Spirits is centred around Maddie (Peyton List), a teen girl stuck in the afterlife investigating her own mysterious disappearance. Maddie goes on a crime-solving journey as she adjusts to high school in the afterlife, but the closer she gets to uncovering the truth, the more secrets and lies she discovers.
The series was created by Nate Trinrud and Megan Trinrud, who also co-wrote the series premiere. Oliver Goldstick (Pretty Little Liars, Bridgerton) serves as showrunner with Max Winkler (Cruel Summer, Jungleland) directing the first two episodes. Goldstick, Nate Trinrud, Megan Trinrud, and Winkler serve as executive producers.
Transformers: EarthSpark (Season 1B)
SATURDAY, 11 MARCH
ALL NEW EPISODES
After the end of the Transformers' war, the Malto family moves to Witwicky, Pennsylvania, to start a new life but their lives soon get entangled with a group of Terran Transformers.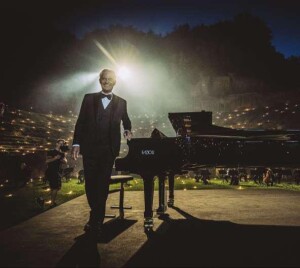 The Journey: Andrea Bocelli
TUESDAY, 14 MARCH
EXCLUSIVE MUSIC DOCUMENTARY / ALL EPISODES
The Journey: Andrea Bocelli follows the world's most beloved tenor, Bocelli as he travels Italy's Via Francigena on horseback to rediscover some of life's greatest joys.
Throughout Bocelli's spiritual pilgrimage along the ancient trail, historical waypoints immerse viewers in the series' key
themes: peace, purpose, facing fear, hope, restoration, and relationships. Each episode features a different Italian backdrop, taking Bocelli from St Peter's Basilica through Tuscany's rolling hills, towards the medieval fortress of Monteriggioni and on to his hometown of Lajatico.
Along the way, Bocelli reflects on life's biggest questions with
friends and family, and performs with talented artists, including: 2Cellos, 40 Fingers, Beatrice Venezi and many more.
The 90-minute special combines every performance from the series with highlights from Bocelli and his musical companions' travels along the Via Francigena.
Unwelcome
FRIDAY, 17 MARCH
EXCLUSIVE MOVIE PREMIERE
A couple escape their urban nightmare to the tranquility of rural Ireland, only to hear stories of mysterious creatures who live in the gnarled, ancient woods at the foot of their garden.
As warned by their new neighbours, the creatures come when called to help souls in dire need of rescue, but it's crucial to remember that there's always a dear price to pay for their aid.
Quattordici Giorni (14 Days)
FRIDAY, 24 MARCH
EXCLUSIVE MOVIE PREMIERE
A couple, a house, an explosive crisis, and two weeks of forced isolation.
Marta and Lorenzo are 46 and 49 years old, respectively; they have been a couple for fifteen years and have been married for twelve. Basically, a lifetime. The family doctor has just told them that they must remain in mandatory self quarantine since Marta came into contact with someone who tested positive for COVID 19. Too bad she recently discovered that Lorenzo is having an affair with another woman, Alessia. Marta hates Lorenzo; Lorenzo hates Marta. But they have no choice. They must remain together, locked up in the same 80 square metres for fourteen days. What will they do? A love story in suspended time, for them and for the entire world, in a countdown leading toward a separation. Fourteen chapters, fourteen moments in the life of a couple, and just one, shattered love.
Yellowjackets (Season 2)
FRIDAY, 24 MARCH
EXCLUSIVE NEW SEASON / NEW EPISODES EVERY FRIDAY
Yellowjackets is the saga of a team of wildly talented high school girl soccer players who become the (un)lucky survivors of a plane crash deep in the remote northern wilderness. The series chronicles their descent from a complicated but thriving team to savage clans, while also tracking the lives they've attempted to piece back together nearly 25 years later, proving that the past is never really past and what began out in the wilderness is far from over.
Rabbit Hole (Season 1)
MONDAY, 27 MARCH
EXCLUSIVE NEW SERIES / NEW EPISODES EVERY MONDAY
In Rabbit Hole, John Weir (Sutherland), a master of deception in the world of corporate espionage, is framed for murder by powerful forces who have the ability to influence and control populations.
In addition to Sutherland, Rabbit Hole features a dynamic cast including Charles Dance (Game of Thrones) as Dr. Ben Wilson, Meta Golding (Empire) as Hailey Winton, Enid Graham (Mare of Easttown) as Josephine "Jo" Madi, Rob Yang (Succession) as Edward Homm, Walt Klink (The English) as The Intern and Jason Butler Harner (Ozark) as Valence.
Sutherland serves as executive producer for Rabbit Hole, alongside writer-directors John Requa and Glenn Ficarra (This Is Us, WeCrashed), Charlie Gogolak (The Sinner, WeCrashed), Suzan Bymel (Designated Survivor) and Hunt Baldwin (Longmire, The Closer).
About Paramount+
You can stream 20,000 hours of unique stories, iconic stars, live sport and a mountain of entertainment on Paramount+ for $8.99 per month for a monthly subscription or $89.99 for an annual subscription.
Join the conversation:
@ParamountPlus
@ParamountPlusAU