July on Warner Bros. Discovery – highlights for the month of July include Sewer Divers, Alaskan Bush People, Moonshiners, Match Me Abroad, I am Shauna Rae, I am Jazz, The Idaho College Murders, Death by Fame, Body Cam, Big Small & Deadly, The Jersey Devil: Monster in the Pines, Spoolin' Up, Street Outlaws: America's List and Roadkill.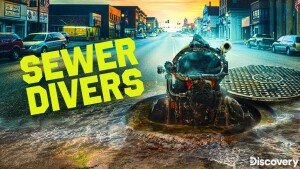 SEWER DIVERS


Wednesday 19 July @ 7:30pm AEST 6×60 NEW SERIES
TERRITORY PREMIERE
America's sewer system is centuries old and in need of constant repair. Sewer Divers is a down-and-dirty, up-close look at the rugged, blue-collar heroes that keep these systems running so the rest of us can stay out of the muck and the mire.
ALASKAN BUSH PEOPLE – Season 7


Wednesday 5 July @ 8:30pm AEST 11×60 NEW SEASON
TERRITORY PREMIERE
It's been one full year since they lost their patriarch and each of the Brown siblings brace for their first real foray into true adulthood. Can they forge their own paths and still keep the spirit of the Wolfpack's one-for-all dream alive?
MOONSHINERS – Season 12


Monday 31 July @ 9:30pm AEST 20×60 NEW SEASON
TERRITORY PREMIERE
As inflation and supply chain disruptions hit Appalachia, moonshiners dig deep into their heritage for secrets to surviving skyrocketing prices while inventing clever new ways to make America's favourite backwoods beverages and earn a tidy tax-free profit.
MATCH ME ABROAD


Wednesday 26 July @ 8:30pm AEST 10×60 NEW SERIES
TERRITORY PREMIERE, EXCLUSIVE TO TLC
Three international matchmakers put their skills to the test by helping seven Americans who are fed up with the dating scene at home and are looking to find love abroad.
I AM SHAUNA RAE – Season 2


Thursday 13 July @ 9:30pm AEST 10×60 NEW SEASON
TERRITORY PREMIERE, EXCLUSIVE TO TLC
Shauna Rae is desperate to live life like an adult even though she's trapped in the body of an 8-year-old. After a childhood battle with brain cancer, Shauna's growth was stunted and she stands at only 3 feet, 10 inches tall. Shauna lives on Long Island with her mom Patty, stepdad Mark, and younger sister Rylee. Shauna's older sister, Tara, lives in Florida with her fiancé, Jesse.
This season, Shauna is more determined than ever to live life like the 22-year-old she is. Shauna is in the driver's seat (literally!) on her journey for independence as she starts driving lessons.
Will she be able to achieve the huge accomplishment of getting her license? Meanwhile, her parents, Patty and Mark, hunt for a new house that will have a separate living space for Shauna. However, Shauna and her younger sister, Rylee, are making their own plans to move out on their own despite their parents' worry.
I AM JAZZ – Season 8


Thursday 20 July @ 8:30pm AEST 6×60 NEW SEASON
TERRITORY PREMIERE, EXCLUSIVE TO TLC
Home from Harvard, Jazz embraces adulthood and independence — and a search for love. Worried about Jazz's mental health issues and trans status, Jeanette tries to keep a tight leash on her. Jazz hopes to find love in spite of her mom getting in the way.
THE IDAHO COLLEGE MURDERS


Saturday 15 July @ 9:30pm AEST 1×60 NEW SPECIAL
TERRITORY PREMIERE
This exclusive documentary special takes a deep dive into the gruesome events that unfolded during Moscow, Idaho's now infamous night of terror. We explore the college world of the four victims, speaking with students and nearby residents and the community's shock and fear after the murders.
As police zero in on a potential suspect, we retrace the steps of criminology Ph.D. student Bryan Kohberger that fateful night as well as the days before and after the horrific crime. Investigative journalists and some of the nation's top criminal minds delve into the evidence to answer the one question everyone's asking — why?
DEATH BY FAME


Saturday 22 July @ 9:30pm AEST 6×60
(back-to-back eps over 3 weeks) NEW SEASON
TERRITORY PREMIERE
Uncovering the sinister side of fame and celebrity as investigators reveal the shocking true stories behind the rise, fall, and murder of some of Hollywood's most promising stars.
BODY CAM – Season 4


Thursday 6 July @ 8:30pm AEST 10×60 NEW SEASON
TERRITORY PREMIERE
Raw, intense, and action packed, Body Cam puts you on the front line of policing. Using real footage from Police Body Cameras, you will experience firsthand the dangerous, fast moving situations officers face, and the life or death decisions they must make.
Body Cam delves into the officer's minds as they are forced to react and deal with the most difficult and life-threatening moments of their careers; from a simple roadside stop gone wrong, to high speed pursuits and a gun wielding shooter on the loose.
Each story is told by the key individuals involved; from the Police officers responding to the call, the witnesses of the incident and the families of the victims targeted. Body Cam also features the families of law enforcement officers who have to live with the everyday reality that their loved one may not make it home. On Body Cam, life on patrol is far from routine.
BIG, SMALL & DEADLY


Saturday 1 July @ 7.30pm AEST 5×60 NEW SERIES
TERRITORY PREMIERE
Dave Salmoni is exploring untamed nature. Big, Small & Deadly presents many of the awe-inspiring animals, from the largest apex predators to the tiniest of warriors, who share our stunning planet as we follow their remarkable and deadly effort to survive
THE JERSEY DEVIL: MONSTER IN THE PINES


Monday 17 July @ 9:30pm AEST 1×60 NEW SPECIAL
TERRITORY PREMIERE
A real-life Frankenstein's monster prowls the vast Pine Barrens of New Jersey. Some say this abomination cannot be killed, and it has been embraced as an official state demon. The quest to find answers has unearthed clues to its hellish origins.
SPOOLIN' UP
Wednesday 19 July @ 8:30pm AEST 4×60 NEW SEASON
TERRITORY PREMIERE
Doug and Brad DeBerti are a father-son team for whom crazy custom builds aren't just a hobby, they're a way of life. When they're not pushing the boundaries in the shop, they're chasing Brad's dream of becoming a professional race car driver.
STREET OUTLAWS : AMERICA'S LIST
Sunday 16 July @ 6:30pm AEST 15×180 NEW SEASON
TERRITORY PREMIERE
The best of the best racers from OKC, Memphis, Texas, NOLA, Detroit, Cali and everywhere in between will be ranked on one single list. These top 25 drivers compete against each other week after week to find out who really is the best in the country.
ROADKILL – Season 8


Monday 3 July @ 8:30pm AEST 3×30 + 2×60 NEW SEASON
TERRITORY PREMIERE
David Freiburger and Mike Finnegan are two guys behaving badly with cars. They are on a gearhead quest to track down all types of worn-out gassers, hot rods and muscle cars, and then push them to their limits.
About Warner Bros. Discovery
Warner Bros. Discovery (Nasdaq: WBD) is a leading global media and entertainment company that creates and distributes the world's most differentiated and complete portfolio of content and brands across television, film and streaming.
Available in more than 220 countries and territories and 50 languages, Warner Bros. Discovery inspires, informs and entertains audiences worldwide through its iconic brands and products including: Discovery Channel, discovery+, CNN, DC, Eurosport, HBO, HBO Max, HGTV, Food Network, OWN, Investigation Discovery, TLC, Magnolia Network, TNT, TBS, truTV, Travel Channel, MotorTrend, Animal Planet, Science Channel, Warner Bros. Pictures, Warner Bros. Television, Warner Bros. Games, New Line Cinema, Cartoon Network, Adult Swim, Turner Classic Movies, Discovery en Español, Hogar de HGTV and others.
For more information, please visit www.wbd.com.
TV Central Warner Bros content HERE