July on Shudder, AMC+ and Acorn TV – Shudder highlights for the month of July include Quicksand, Sharksploitation and Etheria Film Night 2023.
July on Shudder, AMC+ and Acorn TV – AMC+ highlights for the month of July include Dark Winds, The Heiress and the Heist and Cooper's Bar.
July on Shudder, AMC+ and Acorn TV – Acorn TV highlights for the month of July London Kills, Best of Us and Agatha Raisin

AMC+
Dark Winds


Streaming Exclusively on AMC+
Series 2 Premieres Thursday 27 July
Lt. Joe Leaphorn (Zahn McClarnon) reunites with Jim Chee (Kiowa Gordon), his former deputy turned private eye when their separate cases bring them together in pursuit of the same suspect.
They find themselves in the high desert of Navajo Country chasing a killer who's turned his sights on them to protect a secret that rips open old wounds and challenges Leaphorn's moral and professional code. With the help of Sgt. Manuelito (Jessica Matten) and Valencia County Sheriff Gordo Sena, Leaphorn and Chee must thwart their would-be assassin and restore balance not only to their own lives but to the reservation that depends on them.
Guest stars include Jeri Ryan (Star Trek: Picard) as Rosemary Vines, a femme fatale whose physical frailties hide her naked ambition as she plays Jim Chee, leaving a trail of bodies in her wake, as well as Nicholas Logan (Dopesick) as Colton Wolf, a twisted assassin with a secret that puts him on a collision course with Lt. Joe Leaphorn.
The Heiress and the Heist


Streaming Exclusively on AMC+
Series Binge Premieres Thursday 27 July
True crime docuseries that follows the story of Rose Dugdale, a former debutante who rebelled against her wealthy upbringing, becoming a volunteer in the militant Provisional Irish Republican Army.
Dugdale ran head-first towards the action, spearheading the first aerial terrorist attack in British history and pulling off the biggest art theft of her time. In 1974, she led a gang into the opulent Russborough House in Ireland and made off with millions in prized paintings, including works by Goya, Gainsborough, and Vermeer.
Cooper's Bar – Series 1


Streaming Exclusively on AMC+
Series Binge Premieres Thursday 6 July
When Kris Latimer, the biggest jerk in Hollywood, stumbles upon Cooper Marino's backyard Tiki bar oasis, Cooper and his down-on-their-luck pals pull themselves together for one last shot at their "big break." Starring Rhea Seehorn (Better Call Saul), Louis Mustillo (Mike & Molly) and Casey Washington (Hot in Cleveland). Series 2 will premiere later this year.
ACORN TV
London Kills – Acorn TV Original Series


Streaming Exclusively on Acorn TV and AMC+
Season 4 Binge Monday 10 July
Detective Inspector David Bradford has always been a maverick, but his behavior is spinning out of control. When Detective Sergeant Vivienne Cole pulls him up on his conduct, he announces that their professional relationship is over – and then he goes AWOL.
When Vivienne tracks David down and demands he explain his behavior, what he reveals knocks her sideways. Starring Hugo Speer (Britannia), Sharon Small (Trust Me), Bailey Patrick (Casualty) and newcomer Tori Allen-Martin.
Best of Us


Streaming Exclusively on Acorn TV and AMC+
New Series Premieres Monday 24 June
When the murder of a local hero rocks a small Alpine village, a no-nonsense cop is sent from the Parisian suburbs to investigate and is forced to face her own demons in the process.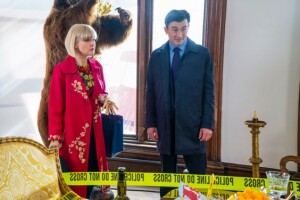 Agatha Raisin – Acorn TV Original Series


Series 4 Binge Monday 31 July
Series four finds the tropical Indian hospital as busy as ever. The fierce and passionate Dr. Lydia Fonseca is forced to confront her complex past and has to handle some home truths in order to save Greg from deportation and perhaps even their future together.
With Ruby still reeling following Gabriel's shock departure, she struggles to see into an uncertain future, makes rash decisions and tries to find ways to vent her fury.
Two new doctors arrive at The Good Karma Hospital – charismatic Dr. Samir Hasan and Dr. Nikita "Niki" Sharma, the epitome of a young, privileged woman who is getting a taste of medicant at the sharp end. Starring Amanda Redman, Darshan Jariwala and Nimmi Harasgama.
SHUDDER
Quicksand


Streaming Exclusively on Shudder and AMC+
Film Premieres Friday 14 July
An American couple, on the brink of divorce, travel to Colombia for a work conference. While on a hike through the rainforest, a storm causes them to become trapped in a pit of quicksand. Unable to move, it becomes a struggle for survival as they battle the elements of the jungle and a venomous snake, in order to escape. Starring Carolina Gaitan (Encanto) and Allan Hawco (Tom Clancy's Jack Ryan).
Sharksploitation


Streaming Exclusively on Shudder and AMC+
Film Premieres Friday 21 July
In the wake of blockbuster classic Jaws, a new subgenre was born. This new documentary explores the weird, wild cinematic legacy of sharks on film and the world's undying fascination. From director-producer Stephen Scarlata (Jodorowsky's Dune).
Etheria Film Night 2023


Streaming Exclusively on Shudder and AMC+
Films Premiere Sunday 2 July Through Monday 31 July
The acclaimed annual horror festival showcasing new horror, science fiction and fantasy films directed by women celebrates its 10th anniversary this year with the official festival lineup once again streaming exclusively on Shudder from July 2 through to July 31.
NEW ADDITIONS TO SHUDDER'S FILM LIBRARY




July 3
Day of the Dead (1985)
As the world is overrun by zombies, a group of scientists and military personnel sheltering in an underground bunker in Florida must determine how they should deal with the undead horde.
July 10
Baby Blood
When a strange creature crawls into a woman's uterus, she becomes a killer in order to feed the tiny terror growing within her.
July 13
The Price We Pay
After a pawn shop robbery goes askew, two criminals take refuge at a remote farmhouse to try to let the heat die down but find something much more menacing.
July 17
Contorted
A family moves to a quiet and isolated place but suffers from nightmares on their very first day in the new home. The wife is anxious about a strange sound she hears in the warehouse, but her husband ignores her concerns. Meanwhile, the family's nightmares are getting worse, to the point that they can hardly tell the difference between dreams and reality.
July 24
A Bittersweet Life
Things go wrong for a high-ranking mobster when he doesn't proceed by his boss's order.
Oldboy (2003)
After being kidnapped and imprisoned for fifteen years, Oh Dae-Su is released, only to learn that he must find his captor in five days.
Dead of Night (1945)
Guests invited to a weekend in the country share their supernatural stories, beginning with Walter Craig, who senses impending doom as his half-remembered recurring dream turns into reality.
More TV Central Shudder content HERE and Acorn TV HERE

ABOUT AMC+ / SHUDDER / ACORN TV

AMC NETWORKS – AUSTRALIA

AMC Networks is a global entertainment company known for its popular and critically acclaimed content with a portfolio of brands available in Australia.
AMC+ is a premium streaming bundle featuring a wide range of original ground-breaking dramas, epic fan-driven franchises, comedies, thrillers, true crime, documentary series and films. AMC+ also offers full access to targeted streaming services Acorn TV and Shudder at no additional cost, featuring new films and exclusive series.
The ad-free AMC+ streaming bundle is available now via amcplus.com/au with a special offer of a one-year subscription at the equivalent of $4.99 per month, a 45% discount on the standard monthly price of $8.99 per month. The bundle is also available on Apple, Android and Amazon Fire devices, as well as on Apple TV channels and for Amazon Prime members via Prime Video Channels.
For more information, please visit: Twitter Facebook Instagram
Acorn TV is the definitive global streaming service for sophisticated and well-crafted mysteries and dramas from Britain and beyond including a raft of Acorn TV Originals including Harry Wild, Signora Volpe, Recipes for Love and Murder, Queens of Mystery, The Chelsea Detective, The Madame Blanc Mysteries and many others. Acorn TV offers a free trial and thereafter is just $6.99 per month or $69.99 for an annual subscription. Sign up at https://au.acorn.tv
Shudder is a premium streaming video service, super-serving members with the best selection in genre entertainment, covering horror, thrillers and the supernatural for $6.99 per month. Shudder's expanding library of film, TV series, and originals is available on most streaming devices in the US, Canada, the UK, Ireland, Germany, Australia and New Zealand. For a 7-day, risk-free trial, visit www.shudder.com