July on Netflix – Netflix highlights for the month of July include Wham, The Lincoln Lawyer, Survival of the Thickest, Too Hot To Handle, They Cloned Tyrone and The Witcher.
ORIGINAL SERIES
Back to 15: Season 2 (05/07/2023)
In this new season, Joel and Anita's futures are accidentally intertwined — so an elaborate new plan to get everything back to normal is in order.
The Lincoln Lawyer: Season 2 Part 1 (06/07/2023)
With his firm in high demand and the team busier than ever, Mickey gets entangled with a woman who soon becomes a client when she's charged with murder.
Deep Fake Love (06/07/2023)
Five couples put their trust to the test in this steamy reality series, where deepfake technology blurs the line of truth and lies in a cash prize game.
Hack My Home (07/07/2023)
A team of four design wizards dreams up space-maximizing solutions and ingenious engineering ideas to transform families' homes in inventive ways.
Fatal Seduction (07/07/2023)
A married professor is pulled into a passionate affair with a younger man that uncovers a path of tragedy and betrayal from those closest to her.
Nineteen to Twenty (11/07/2023)
A group of young adults share their last week of teens and first week of twenties together — experiencing freedom and all the "firsts" of adulthood.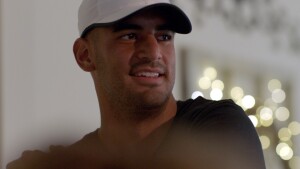 Quarterback (12/07/2023)


Go inside the huddle and into the homes of three NFL quarterbacks in this candid docuseries tracing their 2022-23 season.
Sugar Rush: The Baking Point (12/07/2023)
In this adrenaline-soaked series, six teams of culinary artists blend innovation and tradition to create edible marvels. Who will bake their way to the top?
Survival of the Thickest (13/07/2023)
After a bad breakup, passionate stylist Mavis Beaumont seizes the opportunity to start over in life and love while finding happiness on her own terms.
Devil's Advocate (13/07/2023)
In Kuwait City, a determined defense lawyer defies popular sentiment and takes on a polarizing client: a footballer accused of murdering his wife
Burn the House Down (13/07/2023)
To uncover the truth about the fire that ruined her family 13 years ago, Anzu goes undercover as a housekeeper for the icy mistress of the Mitarai home.
Too Hot to Handle: Season 5 (14/07/2023)
Another sultry but sexless retreat awaits, under Lana's watchful eye, for a group of incurably flirty singles hoping to win a massive $200,000 prize.
Five Star Chef (14/07/2023)


Seven professional chefs compete to bring their fine-dining concept to the historic Palm Court restaurant at London's luxurious Langham Hotel.
The Beauty Queen of Jerusalem: Season 2 (14/07/2023)
The attack on Rosa in 1929 affects her marriage and her brother's future. In 1939, Luna suffers a broken heart but finds love again with a forbidden man.
Country Queen (15/07/2023)
A Nairobi event planner returns to her village after 10 years, where she confronts her past — and a mining company that threatens to destroy her home.
Sweet Magnolias: Season 3 (20/07/2023)
In the aftermath of the fight at Sullivan's, the Magnolias face new struggles as heartache and family drama put their relationships to the test.
Sintonia: Season 4 (25/07/2023)
After a life-changing event, Nando, Rita and Doni are forced to go separate ways. Can their friendship — and relationships — survive it all?
The Witcher: Season 3 Volume 2 (27/07/2023)


Destiny brought them together. Dangerous forces are trying to tear them apart. Geralt and Yennefer fight to keep Ciri safe as war brews on the Continent.
Captain Fall (28/07/2023)
A wet-behind-the-ears, yet good-hearted sea captain unwittingly finds himself at the helm of a smuggling ship for a terrible international cartel who's using him as a fall guy in case the authorities ever catch up to them.
D.P.: Season 2 (28/07/2023)
After a shocking tragedy turns their lives upside down, Jun-ho and Ho-yeol return to capture more military deserters — only to face unexpected danger.
A Perfect Story (28/7/2023)
When Margot flees her own wedding, she is left feeling adrift. Little does she know, it is David and his delightful chaos who can help her find her way.
The Tailor: Season 2 (28/7/2023)


Peyami faces new challenges as his friendship with Dimitri is tested, Esvet spends more time at the house with Mustafa — and a new woman enters his life.
The Uncanny Counter: Season 2 (29/7/2023)
Armed with new powers and fresh recruits, the Counters continue their battle against evil demons who feed on humans.
Kohrra (Coming Soon)
When an NRI bridegroom is found dead days before his wedding, two cops must unravel the troubling case as turbulence unfolds in their own lives.
NETFLIX FILM
Gold Brick (06/07/23)


Determined to even the scales and profit from his thankless job, a factory worker schemes to traffic luxury perfumes from under his employer's nose.
The Out-Laws (07/07/2023)
When the bank Owen manages gets robbed just days before his wedding, all the evidence points in one incredibly awkward direction: his future in-laws. Adam Devine and Nina Dobrev star with Pierce Brosnan and Ellen Barkin in this action comedy.
Seasons (07/07/2023)
After a string of failed relationships, two best friends make a deal to take risks and look for love again — but they might just find it in each other.
Mr. Car and the Knights Templar (12/07/2023)
When an art historian finds an ancient Templar cross, he must join forces with an unlikely group of adventurers on a quest to unlock the relic's secrets.
Bird Box Barcelona (14/07/2023)
From the producers of the global phenomenon, Bird Box, comes BIRD BOX BARCELONA, an expansion of the film that riveted audiences in 2018. After a mysterious force decimates the world's population, Sebastian must navigate his own survival journey through the desolate streets of Barcelona. As he forms uneasy alliances with other survivors and they try to escape the city, an unexpected and even more sinister threat grows.
Love Tactics 2 (14/07/2023)


Asli thinks marriage is a scam, and says so. But when her beau Kerem unexpectedly agrees, she goes to great lengths to manipulate him into proposing.
The (Almost) Legends (19/07/2023)
A colorful Mexican town. Two half-brothers. Romeo and Preciado meet again to honor their dad's memory in a car rally full of adrenaline — and banda music.
They Cloned Tyrone (21/07/2023)
An eerie series of events leads an unlikely trio (John Boyega, Teyonah Parris and Jamie Foxx) down a rabbit hole into a sinister neighborhood conspiracy.
Paradise (27/07/2023)


After his wife is forced to give up 40 years of her life as payment for an insurance debt, a man desperately searches for a way to get them back.
Happiness For Beginners (27/07/2023)
Helen has always lived her life as far from the edge as possible. Newly divorced, she joins a quirky group of strangers on a survival course for the "Adventure of a Lifetime" with the hope of learning how to live — and love — again.
Today We'll Talk About That Day (27/07/2023)
The lives of Narendra and Ajeng intersect for the first time as past and present come together in this prequel to "One Day We'll Talk About Today."
The Murderer (Coming Soon)
After a string of deaths in a small provincial town, a determined detective attempts to uncover the killer — and British expat Earl is the prime suspect.
NETFLIX COMEDY SPECIALS
Tom Segura: Sledgehammer (04/07/2023)
A new stand-up comedy special from Tom Segura.
Mark Normand: Soup to Nuts (25/07/2023)
A new stand-up comedy special from Mark Normand.
NETFLIX DOCUMENTARIES
UNKNOWN (Weekly Starting 03/07/2023)
Unknown: The Lost Pyramid (03/07/2023)
Unknown: Killer Robots (10/07/2023)
Unknown: Cave of Bones (17/07/2023)
Unknown: Cosmic Time Machine (24/07/2023)
UNKNOWN is a four-part docuseries event that tells breathtaking stories of adventure and exploration in awe-inspiring uncharted territories. Premiering weekly, each film pushes the boundaries of knowledge, ventures into unexplored regions, and unlocks the secrets of our world through the stories of remarkable people and places never before captured on camera. From unearthing the world's oldest graveyard to a heart-pounding look at the use of artificial intelligence in warfare, get ready to embark on a thrilling expedition that will broaden your horizons and awaken the adventurer within.
The King Who Never Was (04/07/2023)
This docuseries sheds light on the killing of a German teenager in '78 through the accounts of his sister and the royal family involved in the case.
WHAM! (05/07/2023)
Through archival interviews and footage, George Michael and Andrew Ridgeley relive the arc of their Wham! career, from 70s best buds to 80s pop icons.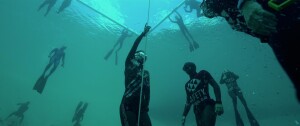 The Deepest Breath (19/07/2023)


The story of a champion freediver and expert safety diver, whose lives seemed fated to converge at the height of their careers. A look at the thrilling rewards — and inescapable risks — of chasing dreams through the depths of the ocean.
Missing: The Lucie Blackman Case (26/07/2023)
July 1, 2000. British 21-year-old Lucie Blackman goes missing in Tokyo, sparking an international investigation — and a years-long quest for justice.
The Lady of Silence: The Mataviejitas Murders (27/07/2023)
Between 1998 and 2005, nearly 50 elderly women were killed in Mexico City, triggering the hunt for — and capture — of a most unlikely suspect.
How to Become a Cult Leader (28/07/2023)
Disguised as a guidebook for capturing a devoted cult following, this docuseries takes a tongue-in-cheek look at the rise of six famed flock leaders.
NETFLIX KIDS & FAMILY
Wake Up, Carlo! (06/07/2023)
Carlo is a wacky, fun-loving boy with a passion for cookies and adventure. But after he falls into a magically deep sleep, things will never be the same!
StoryBots: Answer Time: Season 2 (10/07/2023)
The 'Bots are back to answer more curious questions from kids like you, like how do bubbles form? Why does the moon change shape? And how is glass made?
Sonic Prime: Season 2 (13/07/2023)
With the help of his ragtag group of Shatterverse allies, Sonic battles the Chaos Council for control of the powerful Paradox Prism, one Shard at a time.
Supa Team 4 (20/07/2023)
In the neo-futuristic city of Lusaka, Zambia, four teenage girls join a retired secret agent on a quest to save the world as undercover superheroes.
Dew Drop Diaries (24/07/2023)
From finding lost items to cleaning up messes, three fairies-in-training love looking after kids in their care as they work toward earning their wings.
Miraculous: Ladybug & Cat Noir, The Movie (28/07/2023)
An ordinary teen moves to Paris, becomes a powerful superhero and must join forces with her polar opposite to save the city from a scheming villain.
The Dragon Prince: Season 5 (Coming Soon)
The search for Aaravos' prison sends Rayla, Callum and Ezran on an epic journey across land and sea, while conflict roils the Sunfire elves' kingdom.
NETFLIX ANIME
My Happy Marriage (06/07/2023)
Miyo's abusive family deems her worthless – but together with her powerful husband-to-be, her true self and hidden powers slowly begin to shine.
Record of Ragnarok: Season 2: Episodes 11-15 (12/07/2023)
With some shocking wins, humanity has defied the expectation of the gods. But will they survive the upcoming rounds against some heavy-hitting deities?
Baki Hanma: Season 2: The Tale of Pickle & The Pickle War Saga (26/07/2023)
They revived a human who shouldn't even exist; a prehistoric man so powerful, he once preyed on Jurassic dinosaurs — and Baki can't wait to fight him.
BASTARD‼ -Heavy Metal, Dark Fantasy-: Season 2 (31/07/2023)
The Dark Rebel Army continues to terrorize the land in their ruthless mission to unlock the final seal. But an evolved Yoko leads the forces of good.
NETFLIX GAMES
Shovel Knight Pocket Dungeon (Now Available)
You've been sucked into a puzzle dimension! Battle foes, collect relics and match blocks to save friends and escape in this genre-bending spinoff.
Bloons TD 6 (Now Available)
Sharpen those darts! Defend Monkey Towers from an ever-flowing stream of colorful invading balloons. As you pop, more new abilities and heroes unlock.
LICENSED HIGHLIGHTS
True Colours: Season 1 (01/07/2023)
A detective returns to the Aboriginal community where she grew up to investigate a case she soon realizes is painfully entangled with her own family.
Barrumbi Kids: Season 1 (03/07/2023)
Two inseparable friends make mischief and experience the complexity of each other's cultures while growing up in a remote Northern Australian community.
The Last Daughter (03/07/2023)
Trying to reconcile her fragmented upbringing, an Aboriginal woman searches for the white parents who raised her before she returned to her birth family.
Don't Worry Darling (04/07/2023)
In a gleaming, picture-perfect experimental community in the desert, a housewife's life unravels at the seams when she begins to ask unwelcome questions.
Marcel the Shell with Shoes On (08/07/2023)
A filmmaker befriends the tiny talking shell sharing his Airbnb, who sets out to find his missing family and becomes an online sensation in the process.
Black Adam (18/07/2023)
Freed from his magical prison, a champion with the powers of the gods toes the line between good and evil as the Justice Society tries to contain him.
Alone: Season 5 (30/07/2023)
Ten former competitors get a second chance at winning $500,000 and head to Northern Mongolia, where their survival skills are put to the ultimate test.
About Netflix

At Netflix, we want to entertain the world. Whatever your taste, and no matter where you live, we give you access to best-in-class TV series, documentaries, feature films and mobile games. Our members control what they want to watch, when they want it, with no ads, in one simple subscription. We're streaming in more than 30 languages and 190 countries, because great stories can come from anywhere and be loved everywhere. We are the world's biggest fans of entertainment, and we're always looking to help you find your next favorite story.
Pricing (Australian Dollar)
Basic with ads*: AU$6.99/month
Basic: AU$10.99/month
Standard: AU$16.99/month
Premium: AU$22.99/month
NOTE:
*The Basic with ads plan may not be available through all third-party billing partners and packages. Please check with your provider to confirm availability.
NOTE:
Depending on where you live, you may be charged taxes in addition to your subscription price.
Sign up for Netflix today and choose from several payment options. You can easily change your plan or cancel at any time.
More TV Central Netflix content HERE